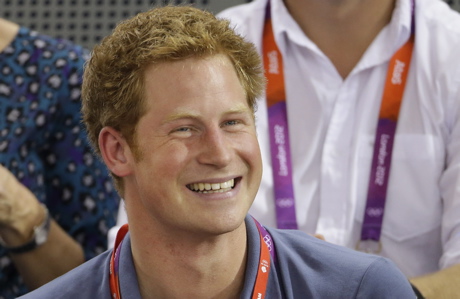 Some weeks, it just rains men in drenched ol' England. This week is one, with an outstanding example of British beefcake celebrating his birthday almost every day of the week.
Let's begin with Prince Harry, who turns 29 this Sunday, Sept. 15. (Technically, his birthday is next week but we wanted to be sure to give him a "shout out" as the big day falls on the weekend.) Fourth in line for the British throne (with newborn nephew George now ahead of him in the queue), Harry's full title is the impressive mouthful, His Royal Highness Prince Henry Charles Albert Davis of Wales. His civilian job is as a captain in the Army Air Corps, for which he has twice served tours of duty in Afghanistan.
There's no official word yet on how the prince, whose fondness for partying is well documented, plans to celebrate his final hurrah as a twentysomething.
Harry was in the British tabloids last week, however, because of renewed speculation that he may be close to becoming engaged to girlfriend Cressida Bonas. She's the dancer and would-be actress with whom he has been keeping company for the past two years. The evidence of possible seriousness in the relationship, Tatler put Bonas on its cover, just as it did with Harry's sister-in-law, Catherine, Duchess of Cambridge, prior to her actual engagement to Prince William. Bonas graces the magazine's October issue–on newsstands now–where her radiant visage is atop a headline that reads, "Harry loves Cressy."
More concrete is the news that Harry will spend November in the South Pole. The athletic prince plans to take part in a 208-mile trek that will raise money for the rehabilitation of injured fellow soldiers.
Other Brits celebrating birthdays this week:
Today, Sept. 9: Hugh Grant, the dapper Englishman who became a star in Four Weddings and a Funeral (1994), turns 53.  He followed that comedy smash with leading roles in such popular films as Notting Hill, About a Boy, Bridget Jones's Diary and Love Actually. More recently, Grant has kept himself busy leading the charge in the U.K. against unscrupulous tabloid reporters, and by fathering two young children with on-again-off-again girlfriend Tinglan Hong.
Hugh Grant discusses fatherhood with Ellen de Generes:
Tuesday, Sept. 10: Also celebrating his 53rd birthday is Grant's BridgetJones co-star, Colin Firth.
The thinking woman's heartthrob and an Oscar winner (for The King's Speech), he has been a star on both sides of the Atlantic since emerging from a lake in a drenched white shirt as Mr. Darcy in the 1995 BBC miniseries version of Pride and Prejudice. His latest film, The Railway Man, a drama based on a true story, had its world premiere last week at the Toronto Film Festival. Firth plays a man who, years after being brutally maltreated as a British prisoner-of-war in Burma during WWII, finally confronts his Japanese torturer. Catherine Shoard, reviewing the movie in The Guardian, said, "Colin Firth turns in a performance of immense emotional complexity." Railway Man opens in the U.K. on Jan. 3 but as yet has no U.S. release date.
Wednesday, Sept. 11: Alas, this is the one day this week that no celebrated British hunk has a birthday. But let's hear it for Philip Ardagh, the bountifully bearded author of the popularEddie Dickens trilogy of children's books, who turns 52. Among other literary works, he also co-wrote, with former Beatle Paul McCartney and illustrator Geoff Dunbar, the best-selling 2005 children's book, High in the Clouds.
Philip Ardagh offers tips on writing:
Thursday, Sept. 12:
Commonwealth Games diver turned action movie star Jason Statham makes a splash as he celebrates turning 46. The London-born actor made his name in The Transporter film series and had an uncredited cameo this past summer in Fast & Furious 6. He is next slated to star in Homefront, an action thriller opening in the U.S. on Nov. 27.Friday, Sept. 13: Niall Horan, the Irish-born member of One Direction, the popular Anglo-Irish boy band, puts teenagerdom behind him by turning 20. Which one is he again? Of the band's five members, he's the only blond and boasts a massive swoop of a quiff rising off his forehead.
Saturday, Sept. 14: Andrew Lincoln, one of the many British actors passing for Americans on hit TV shows on this side of the pond, turns 40.  The London-born Lincoln, who earlier was a regular on such British TV series as Teachers and Afterlife, currently stars as zombie fighter Rick Grimes in AMC's breakout hit, The Walking Dead. Fun trivia: He is wed to Gael Anderson, who is the daughter of Jethro Tull's Ian Anderson. The flower girl at their 2006 wedding was Apple Martin, the daughter of Gwyneth Paltrow and Coldplay's Chris Martin.
Andrew Lincoln on his Walking Dead role:
Sunday, Sept. 15:  Toned Tom Hardy, the versatile English actor who can play both sensitive brooders and tough guys, marks his 36th birthday. He became a household name in the U.S. with his performances in two films by fellow countryman Christopher Nolan: Inception (2010) andThe Dark Knight Rises (2012). He next rips up screens as the title character in Mad Max: Fury Road, a follow-up to the old Mel Gibson series, which is expected to open next year. Below, he discusses his role as a Welshman whose life is unraveling both professionally and personally in the experimental drama, Locke, for which he won raves when it screened at the Venice Film Festival earlier this month:
If you had to pick one, whose birthday party of the gents listed above would you most want to attend?
Read More
Filed Under: