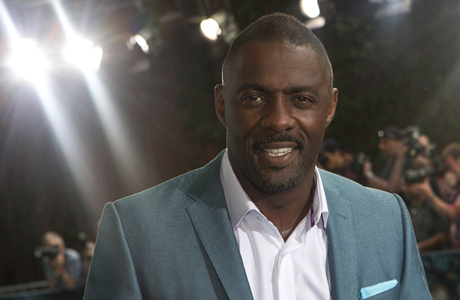 Idris Elba, the London-born actor who stars as the titular police detective in BBC America's popular Luther series, celebrates his 41st birthday on Sept. 6.
He has been in the news of late both because he has been giving interviews to publicize the long anticipated start ofLuther's third season (which begins tomorrow, Sept. 3, on BBC America at 10 p.m./9 p.m. Central), and because of reports that a screenplay for a possible Luther prequel film has been completed.
"We've always wanted to take Luther to a movie character," he told the New York Daily News last week. "We could show what happened before the TV series started, see what makes him tick. An origin story would enable us to show him as a classic superhero. I've always seen Luther as a superhero-type character."
Elba, who first gained major notice as drug dealer Russell "Stringer" Bell on HBO's The Wire in 2002, starred earlier this summer in the robotpocalypse screen epic, Pacific Rim. He next portrays South African freedom fighter Nelson Mandela the biopic, Mandela: Long Walk to Freedom, which opens on Nov. 13 in the U.S. The movie costars Skyfall's Naomie Harris as Mandela's then wife, Winnie Mandela. Ironically enough, Harris also celebrates her birthday on Sept. 6, turning  37.
Here's a trailer for Mandela:
Other famous Brits who'll be blowing out candles on birthday cakes this week include:
Monday (Sept. 2):  Lennox Lewis, the last undisputed heavyweight champion of the world, turned 48 on Monday. The London-born boxer won 41 of his 44 professional fights, 32 by knockouts (he lost two matches and had one draw), before retiring from the ring in 2004. Lewis was among those who carried the Olympic torch through England on its way to the London stadium for the 2012 Olympics. Here's a literal greatest hits reel:
Tuesday (Sept. 3): Adorably daffy Pauline Collins, who won a clutch of major awards and nominations for the stage and film versions of Shirley Valentine (1989), marks her 73rd birthday. She first rose to fame playing spirited maid Sarah in the original Upstairs, Downstairs, has starred in several successful British sitcoms with her longtime husband, John Alderton, and had a recurring role in Doctor Who in 1967 and returned to the sci-fi series as Queen Victoria in 2006. Last year, she starred alongside Dame Maggie Smith in the British seniors comedy, Quartet.
Wednesday (Sept. 4): Noah Taylor, the sharp-faced character actor who played Locke on the third season of HBO's Game of Thrones, turns 44. The London-born Taylor, who had moved to Australia with his family as a youngster, broke out early with noteworthy performances in a trio of Australian films: The Year My Voice Broke (1987), Flirting (1991) andShine (1996).
Thursday (Sept. 5): India Hicks, a former model turned interior, fragrance and jewelry designer, celebrates her 46thbirthday. In recent years, Hicks has served as host for a TV design show and as a royals expert, providing commentary for news coverage at the 2011 wedding of Prince William to Catherine, the Duchess of Cambridge. Her qualifications for that gig? She had served as a bridesmaid thirty years earlier at the wedding of Princess Diana and Prince Charles, who is himself Hicks' second cousin and godfather. Here's Hicks talking about royals and fashion:
Friday (Sept. 6): Royal in-law and socialite Pippa Middleton, the younger sister of the Duchess of Cambridge, turns 30. After becoming a tabloid regular following her sister's wedding, Middleton alternately has been celebrated for her fashion sense and derided for cashing in on her royal connections.  She was particularly lambasted last year for publishing a book–she received an advance of £400,000–on entertaining, Celebrate, which contained such obvious tips as, "Nearly any breakfast becomes special when it's brought to you in bed," and "Tea bags should go in the teapot, rather than individually in mugs."  Here's Middleton celebrating the launch of her tome:
Saturday (Sept. 7): Proving that talent has nothing to do with size, actor Toby Jones, who celebrates his 47th birthday, stands only 5 ft. 5 inches. He has made it, however, to the highest rank of British performers with brilliant turns as Truman Capote in Infamous (2006), Alfred Hitchcock in HBO's The Girl (2012) and as the voice of Dobby the House Elf in twoHarry Potter films. More recently, he played Claudius Templesmith in The Hunger Games and reprises the role in a sequel, which opens Nov. 22.
Sunday (Sept. 8): An Anglophenia favorite, Martin Freeman, marks his 42nd birthday. The comic actor became an international star last year playing Bilbo in the global blockbuster, The Hobbit: An Unexpected Journey. That just added more gold to an already shiny resume that already his stint as Tim Canterbury, Ricky Gervais' long-suffering foil in the British version of The Office (2001-03), and as Dr. John Watson, Benedict Cumberbatch's long-suffering foil on BBC's on-going crime drama, Sherlock. Check out Freeman answering questions about acting and his career for BAFTA:
Whose birthday party of those listed above would you most like to attend?
Read More
Filed Under: