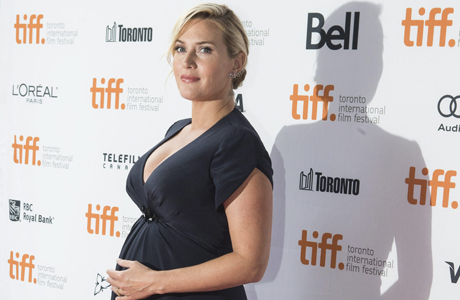 Kate Winslet, the English lovely who won an Oscar for Best Actress in The Reader (2008) and has been nominated another five times, celebrates her 38th birthday this Saturday, Oct. 6.
The actress, who has also starred in Sense and Sensibility, Titanic, Eternal Sunshine of the Spotless Mind and Finding Neverland and more, is currently pregnant with her third child. The father is Ned Rocknroll (born Abel Smith), a businessman who's also the nephew of British tycoon Richard Branson. He and Winslet wed nearly a year ago. (Winslet was previously married to directors Jim Threapleton and Sam Mendes and had a child with each.)
Appropriately enough, given her expectant state, her next film is called Labor Day. A drama about a mother and son who become involved with an escaped convict (Josh Brolin), the movie is directed by Jason Reitman (Up in the Air) and will open in the U.S. in limited release on Christmas Day. Here's a clip:
Other Brits ascending a step up the birthday ladder this week include:
Today, Sept. 30: Ben Lovett, a founding member of the popular folk rock band, Mumford & Sons, marks his 27th birthday. The keyboard artist made news earlier this month when he announced that the Grammy-winning band would be going on hiatus after a busy year spent touring and promoting its Babel album. "We're just going to rest up," Lovett told Rolling Stone. "I don't think we've had, actually, much time in the process to be with other people and living a life outside of the band. I think that's what's in place at the moment, to do very little, especially when it comes to Mumford & Sons."
Tuesday, Oct. 1: Julie Andrews, the beloved star of Mary Poppins (1964) and The Sound of Music (1965), turns 78. Her later career has taken a decidedly royal turn with a whole new generation of fans discovering Andrews in the The Princess Diaries (2001), where she played the queen of a fictional kingdom to which an American teenager (Anne Hathaway) turns out to be the nearest royal heir, and when she voiced another queen in three animated Shrek films.
Wednesday, Oct. 2: Singer-songwriter Sting (born Gordon Sumner), the one-time schoolteacher-turned-rock star with The Police, celebrates his 62nd birthday. He has just released a new solo album, The Last Ship, which contains many of the songs he has written for a planned Broadway musical of the same name, which he is hoping will open a year from now. Wearing a form-fitting white t-shirt, he gave a rousing performance of one of his new songs last week on NBC's The Today Show:
Thursday, Oct. 3: Lena Headey, the fierce but sexy English actress who wreaks havoc as the malevolent queen, Cersei Lannister, in HBO's Game of Thrones, celebrates a big one: 4-0. Headey also recently made her debut on Sesame Street where she and Murray, a furry, red puppet pal, taught young viewers the word of the day: relax. Take a look:
Friday, Oct. 4: The Right Honorable Ann Widdicombe, a former politician famous in the U.K.  for her highly conservative views (she opposed abortion and favored reinstating the death penalty), turns 66. Three years ago, she endeared herself to TV viewers in England, including many  who didn't share her political views, with her enthusiastic but less than light-footed performances while a celebrity contestant on BBC One's Strictly Come Dancing (the British version of Dancing with the Stars). In the clip below, she dances the salsa on Strictly, a performance one judge pronounced "somewhere between horror and comedy":
Saturday, Oct. 5: Another star of Mary Poppins, actress Glynis Johns, who portrayed Mrs. Banks, the suffragette mother in the film musical, reaches the grand old age of 90. The Welsh actress is also remembered for introducing Stephen Sondheim's classic song of middle-aged regret, "Send in the Clowns," when she sang it while starring in the original Broadway production of A Little Night Music in 1973.
Sunday, Oct. 6: Cardiff-born Ioan Gruffudd, best known on these shores for stretching himself by portraying elastic-limbed Mr. Fantastic in Fantastic 4: Rise of the Silver Surfer(2007), turns 40. In the U.K., he's still fondly remembered for the dashing figure he cut as Horatio Hornblower, a fictional 19th century British naval officer, in six action-packed TV movies that aired from 1998 through 2001.
Whose birthday party of those listed above would you most like to attend?
See More:
'Watch' Divergent Trailer Starring Kate Winslet
Are Mumford and Sons Calling it a Day?
Brits with Birthdays
Read More
Filed Under: