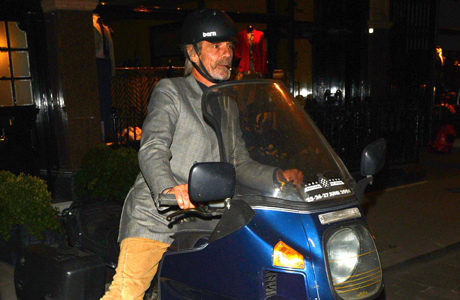 Jeremy Irons is about to become a senior citizen. The British actor, equally adept at portraying both romantic heroes and bounders, turns 65 this Thursday (Sept. 19).
The Oscar-winning star (for 1990's Reversal of Fortune) has been landing leading roles for the past four decades, beginning on British TV in such series as The Pallisers (1974), Love for Lydia (1977) and Brideshead Revisited (1981), where his breakout role as impressionable Charles Ryder propelled him to international stardom.
In the years since, he has graced such memorable films as The French Lieutenant's Woman(1981), Dead Ringers (1988), Damage (1992), Die Hard: With a Vengeance (1995), Being Julia (2004) and dozens more. For several generations of children, the mere sound of his voice is enough to set them quaking, thanks to his chilling turn as Scar, the villainous lion in the animated hit, The Lion King (1994).
Irons will next be seen on PBS in Henry IV, Part 1 and 2, which begins airing Sept. 27 and is part of the Hollow Crown series. Crown is a BBC and PBS co-production featuring four of Shakespeare's history plays (the others are Richard II and Henry V). Here's a clip featuring Irons as Henry IV and co-star Tom Hiddleston as his son, Prince Hal, the future Henry V:
Other Brits celebrating birthdays this week include:
Monday, Sept. 16: Popular singer Katie Melua, who was born in Georgia (the former Soviet republic, not the U.S. southern state) but became a British citizen as a teenager, turns 29.  She has sold more than 11 million albums worldwide, beginning with Call Off the Search in 2003. Her newest album, Ketevan (which is her Georgian birth name, according to her website), will be released today, to mark her birthday. Its first single is, "I Will Be There", a song Melua debuted in honor of Queen Elizabeth II at the Coronation Festival Gala at Buckingham Palace this past July. Here's a clip of Melua performing at the Coronation Festival:
Tuesday, Sept. 17:  Sir Stirling Moss, a retired Formula One racecar driver who was repeatedly referred to as "the greatest driver never to win the World Championship," celebrates completion of his 84th lap around life's track. Following his racing career, he spent many years as a color commentator on auto events for ABC's Wide World of Sports program.
Wednesday, Sept. 18: Actress Tara Fitzgerald, who works frequently in both British films (A Man of No Importance, Brassed Off and I Capture the Castle) and TV (Jane Eyre, Waking the Dead and The Body Farm), turns 46. She most recently appeared as Selyse Baratheon in an episode of HBO's popular Game of Thrones this past season.
Thursday, Sept. 19: Rosemary Harris, the British-born actress revered for her work on stages in both London and New York, celebrates her 86th birthday. Despite all her years on stage, more fans probably know her from her appearances as May Parker, Peter Parker's aunt and adoptive mother, in three Spider-Man movies. She is also the mother of actress Jennifer Ehle (Pride and Prejudice).
Friday, Sept. 20: Jane Manning, a talented soprano who's has championed new music by performing the premieres of more than 350 new works, turns 75. Praising her in The Independent on Sunday, critic Michael White once called her, "the irrepressible, incomparable, unstoppable Ms. Manning, life and soul of British contemporary music."
Saturday, Sept. 21: Liam Gallagher, the bad boy, former frontman for the rock group Oasis, marks his 41st birthday. He has recently been in the news in the U.K. because of his reported split with wife, singer Nicole Appleton, following the revelation that he'd had a child with Liza Ghorbani, an American journalist, and was having an affair with Debbie Gwyther, his former assistant. And that was all just his personal life. On the professional front, reports surfaced over the weekend that he and brother Noel Gallagher were tentatively talking about definitely maybe getting Oasis back together for a concert tour.
Sunday, Sept. 22: Those Harry Potter kids just keep getting older! Tom Felton, who portrayed bad guy-in-training Draco Malfoy in all eight Harry Potter films, turns 26.  He next stars as a weakling husband in Therese, along with Elizabeth Olsen, Oscar Isaac and Jessica Lange. The movie, the latest film adaptation of French author Émile Zola's 19th century novel, Thérese Raquin, opens in the U.S. on Sept. 27. Here's a clip:
At whose birthday party of those listed above would you most like to be a guest?
Read More
Filed Under: