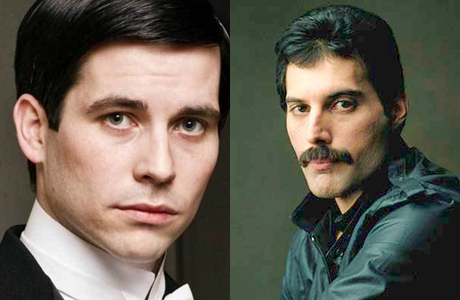 Rob James-Collier, who plays scheming servant Thomas Barrow on the popular TV series, Downton Abbey, turns 37 today (Sept. 23).
The period drama began airing last night in England on ITV. Downton devotees in the U.S. will have to wait until Jan. 5, when PBS begins showing Season 4, to find out what's in store for James-Collier's character this year. (Spoiler: He has hinted in interviews that Thomas, who's gay, won't be finding true love anytime soon.)
James-Collier made headlines in the British press over the weekend by suggesting himself for the role of singer Freddie Mercury in a biopic about the Queen frontman, who died of AIDS in 1991 at age 45. (Sacha Baron Cohen was slated to play the role, but withdrew, and the latest reports have Harry Potter wee wizard Daniel Radcliffe being offered the role.)
"I've got the same skin pallor, I've got the bright red lips, I've got the nose, I've got the hairy chest, I just can't sing," James-Collier told Yahoo TV! in the U.K. of his qualifications for portraying Mercury. "They can dub that over, can't they?"
Other Brits celebrating birthdays this week:
Today, Sept. 23: Also marking a birthday today is An Idiot Abroad's Karl Pilkington, the comic sidekick who can set off Ricky Gervais' braying laugh like no one else. He turns 42. His new solo series, The Moaning of Life, begins month airing in the U.K. on Sky 1 next month. Here's a trailer:
Tuesday, Sept. 24: Bicycle racer Victoria Pendleton, who won Olympic gold medals for Britain in track bicycle riding events at the both the Beijing Olympics and a year ago in London, turns 33. She also won a silver medal for sprinting on a bike at the London Olympics. Earlier this month, she wed Scott Gardner, a member of the coaching staff of the British cycling team.
Wednesday, Sept. 25: Welsh-born actress Catherine Zeta-Jones, whose split with husband Michael Douglas in late August has become front page fodder for the tabloids, celebrates her 44th birthday. The Oscar-winning star made her first public appearance since the break-up was announced over the past weekend in China at a lavish event held to celebrate the launch of a major new movie studio in that country's Shandong province.
Thursday, Sept. 26: Aussie songbird Olivia Newton-John, who was born in Cambridge, England but moved Down Under with her family when she was 5, reaches the major milestone of 65. A breast cancer survivor, the Grease star recently helped open a cancer and wellness center named after her at a hospital in Melbourne. She talks about the center in a video here.
Friday, Sept. 27: Welsh comic and entertainer Max Boyce, who turned his passion for rugby into comic gold and best selling albums in the 1970s and '80s, turns 68. He sings "The Glory that Was Rome," an amusing ditty about visiting Rome and seeing the Pope this video:
Saturday, Sept. 28: Actress Naomi Watts, whose Diana biopic about Princess Diana opens in the U.S. on Nov. 1, turns 45.  The Oscar-nominated star was born in England but moved to Australia with her mother and brother when she was 14. She maintains dual citizenship but has said that she still travels with a British passport.
Sunday, Sept. 29: Tough guy actor Ian McShane, best known for his leading roles in such fondly remembered TV series as BBC's Lovejoy (1986-94) and HBO's Deadwood (2004-06), turns 71. He next stars in Cuban Fury, a British comedy about a salsa dancing star attempting a comeback. The film costars Nick Frost, Chris O'Dowd, Broadchurch's Olivia Colman and (the token American) Rashida Jones.
At whose birthday party of those listed above would you most like to be a guest? 
Read More
Filed Under: