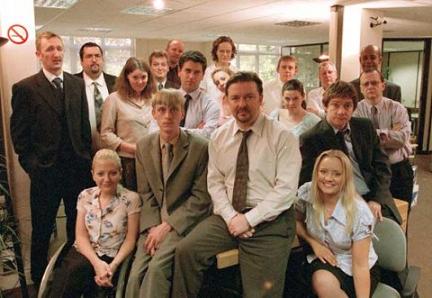 Sitcoms often work best when they present characters stuck in a situation they feel unable to get out of, try as they might. And while there is a lot of scope for this kind of thing in the home, the best examples can be found in offices and kitchens and other working environments. Y'know, the kind of places where the rules and etiquette aren't quite clear and you're constantly discovering that other people are strange, inconsiderate and baffling.
Just because it's Labor Day, here, with full-length examples where possible, are ten of the worst places you could possibly work, while also being the best places to be a comedic fly on the wall.
Note: ironically enough, some of the clips are quite sweary, and therefore not safe for work:
Grace Brothers (Are You Being Served)
http://www.youtube.com/watch?v=2TNo9aQrs-g
Less a department store, more a hotbed of innuendo and gossip (and all the better for it).
Wernham Hogg (The Office)
I know it's supposed to be work to live and not live to work, but the suffocating atmosphere of this paper merchants – even without the documentary cameras there – would make it hard do either.
Reynholm Industries (The IT Crowd)
This seems a far nicer place to be, unless you're trapped down in the cellar with two socially inept geeks.
PhoneShop, Sutton (PhoneShop)
The bleak face of modern commerce, a shop in which every customer comes in with a metaphorical "kick me hard" sign on their back.
Steptoe's Yard (Steptoe and Son)
Poor Harold Steptoe, of Steptoe's Scrapyard: his place of work is also his home, and he has to share it with his dad. More suffocating than Wernham Hogg.
East Hampton Hospital (Green Wing)
http://www.youtube.com/watch?v=ibMcDxViiyQ
A wacky hospital sounds like a fun place in theory, but you try getting a plaster for a sprained wrist and see what you end up with.
Fawlty Towers (Fawlty Towers)
Do not work here, the manager will hit you with a spoon.
Globelink News (Drop The Dead Donkey)
http://www.youtube.com/watch?v=_BcWpyJZkD4
Ah! A job in the media! What could be finer? Er…
HWD Components (Dinnerladies)
http://www.youtube.com/watch?v=sAeLKGf9EGA
To be precise the job on offer is in the canteen, among Victoria Wood's bickering kitchen staff, and probably involves lessons in comic buffoonery for minimum wage. Maybe try somewhere else?
Sunshine Desserts (The Fall and Rise Of Reginald Perrin)
http://www.youtube.com/watch?v=PjcHudQaX3M
Watch this and tell me the corporate world has got less idiotic in the last 40-odd years. You are wrong.
Whitehall (Yes Minister)
http://www.youtube.com/watch?v=osoF7nzSy2A
Naturally, the muck that oils the machinery of power is too fertile to lay fallow for long. Once Yes Minister had become Yes Prime Minister and then finished, it wasn't that long before another comedy came along with the same basic snoot-cocking intent. Exit Jim Hacker, enter The Thick Of It:
http://www.youtube.com/watch?v=wc00VM5eaLY
I bet you're shocked we managed to find a clip in which Malcolm Tucker isn't swearing.
Read More
Filed Under: