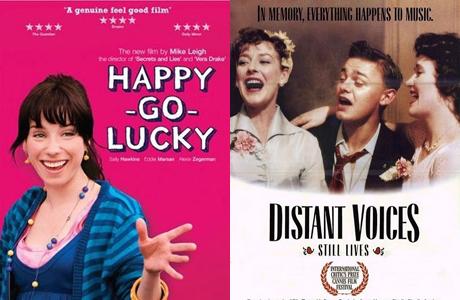 Both critically acclaimed, British filmmakers Mike Leigh and Terence Davies, illustrate the human spirit in their narrative films, taking different cinematic approaches. Here are three films from each, which you can watch online:
Mike Leigh
1. Happy-Go-Lucky
In this breakthrough role, Sally Hawkins portrays Poppy, an eternally happy school teacher. She's 30-years-old, single, loves her job, loves her mates and has no complaints. Not everyone enjoys her enthusiasm, particularly her driving instructor.
Watch Happy-Go-Lucky on Netflix.
2.  Topsy Turvy
In this comic biography, successful opera composers W.S. Gilbert (Jim Broadbent) and Arthur Sullivan (Alan Corduner) suffer their first failure. Their confidence waivers but after making a visit to a Japanese art exhibit, a light bulb goes off and a new collaboration begins.
3. Another Year
Mary (Lesley Manville) leans on her friends; married couple Tom (Jim Broadbent) and Gerri (Ruth Sheen), when she finds herself lost after her husband leaves her. They're a little put off when they notice Mary has a glint in her eye for their son, who is grown, but still 20 years her junior.
Watch Another Year on Amazon Instant.
Terence Davies
1. Of Time and the City
Davies tells an autobiographical story, acting as narrator, using actual newsreels and footage of life in Liverpool, England during the 1950s and 1960s. He describes it as a "Love song and a eulogy to the city of Liverpool."
Watch Of Time and the City on Amazon Instant.
2. Distant Voices, Still Lives
This autobiographical film is made up of two parts with the first part, Distant Voices, outlining Davies' life growing up in a working-class family in Liverpool, England; the second part, Still Lives, sees Davies and his siblings grown up, on the verge of experiencing the arrival of rock & roll.
Watch Distant Voices, Still Lives on Amazon Instant.
3. The Deep Blue Sea
2013 Anglo Fan Favorite Winner Tom Hiddleston performs opposite Rachel Weisz in this 2011 adaptation of the 1952 Terence Rattigan play. Weisz plays the suicidal wife of a High Court judge, and Hiddleston plays her troubled lover, a former RAF pilot, with whom she is having an adulterous affair.

Watch The Deep Blue Sea on Netflix.
What's on your playlist?
Read More
Filed Under: