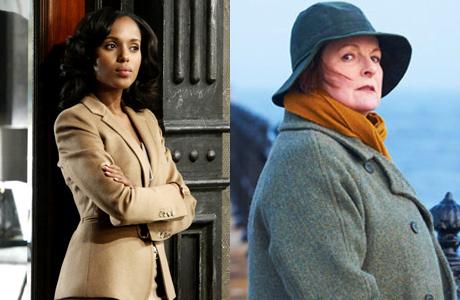 Self-proclaimed Doctor Who aficionado Shonda Rhimes (Grey's Anatomy) has done it again, penning the hit series Scandal, which premieres its third season on ABC October 3. The fast-paced political thriller stars Kerry Washington (Django Unchained) as a White House Communications Director who leaves to start her own crisis management firm in D.C. – but has some loose ends at her old gig, namely her ongoing affair with the Commander-in-Chief (Tony Goldwyn). You can catch up on seasons one and two of Scandal, which are available on Netflix. If you're liking Scandal, you may be interested in adding these dramatic, problem-solving (or causing) British shows to your playlist:
1. Vera
Detective Chief Inspector Vera Stanhope (Brenda Blethyn) is extremely determined and meticulous when investigating what can be considered heartbreaking cases. If she doesn't get the answer straight away, she just keeps asking, asking and asking until it's revealed. Vera isn't left to handle these brutal misfortunes on her own, with right-hand man Sergeant Joe Ashworth (David Leon) there to back her up.
2. House of Cards (UK)
Jaded politician Francis Urquhart (Ian Richardson) schemes his way to power, unscrupulously knocking out his competition one-by-one, after being denied a Cabinet post by the newly elected Prime Minister Henry "Hal" Collingridge (David Lyon). His wife is keen on being a Prime Minister's wife and is on the game. (The Emmy-nominated Americanized 2013 version, starring Kevin Spacey as the lead conniver, is available on Netflix.)
Watch House of Cards on Hulu.com.

3. State of Play
A string of deaths are investigated by newspaper journalist Cal McCaffrey (Doctor Who's John Simm) who soon realizes the deaths are somehow tied to each other, connected to high-ranking British government ministers. Editor Cameron Foster (Bill Nighy) and his son Dan (James McAvoy), also a reporter, team up with Cal to figure out what exactly is going on.
Watch State of Play on Hulu.com.
4. New Tricks
This police drama revolves around three retired police officers (Dennis Waterman, Alun Armstrong, James Bolam) who return to the force after finding domestication a little humdrum. Detective Superintendent Sandra Pullman (Amanda Redman) is understaffed and inherits the seasoned recruits after she has a mishap with a hostage situation. The old timers give new life to abandoned cold cases.
5. Hustle
While Washington's character and the above shows' lead characters are problem-solvers, this group of hustlers are indeed problem-makers. This group of men specialize in long-term cons versus one-off cheap tricks. We'll give 'em that, at the least, they're committed.
What's on your playlist? 
More Here:
Landmark BBC Worldwide Deal with Hulu
Now Streaming on Netflix: BBC Thriller 'The Fall' Starring Gillian Anderson
Brit Binge Watching: Five Political Dramas You Can View Online 
Read More
Filed Under: