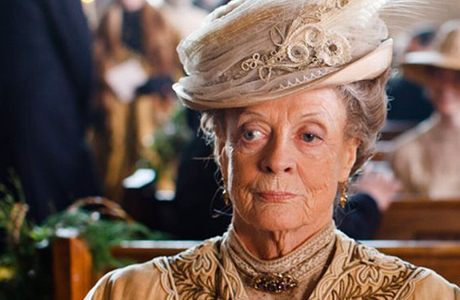 Dame Maggie Smith is currently nominated for her third straight Emmy for her role as Violet Crawley, Dowager Countess of Grantham in Downton Abbey (available on Hulu.com). While many of her famous earlier roles aren't available for streaming (namely, her Oscar-winning The Prime of Miss Jean Brodie and California Suite performances), there's plenty of her filmography to binge on via Amazon and Netflix:
1. The Best Exotic Marigold Hotel
Director John Madden's 2011 release, follows a group of British retirees, played by an ensemble cast made up of Smith, Tom Wilkinson, Judy Dench, Bill Nighy, and Penelope Wilton, who are duped into traveling to India by over-glorified adverts for the Marigold Hotel. While the lodgings aren't quite 5-star, they discovered way more than they ever expected.
Watch The Best Exotic Marigold Hotel on Amazon Instant.
2. Harry Potter
We met the wee wizard Harry Potter (Daniel Radcliffe) in the first installment of the beloved series, Harry Potter and the Sorcerer's Stone in 2001. The franchise has eight films all together and Amazon.com Instant has all of 'em. Smith is by Harry's side in all eight films, portraying Professor Minerva McGonagall, the Deputy Headmistress of Hogwarts School of Witchcraft and Wizardy.
Watch the Harry Potter franchise on Amazon.com Instant.
3. Gosford Park
This 2001 period drama, set in 1932, follows the lives of upstairs guests and downstairs servants in a whimsical "whodunit" revolving around the murder of the host Sir William McCordle (Michael Gambon). Smith's character, Constance, Countess of Trentham, is a suspect since Sir William held the purse strings to her allowance; even though she has an alibi.
Watch Gosford Park on Netflix.
4. Curtain Call
In this 1996 comedy, Stephen Lowe (James Spader) is a bachelor timid of marriage who moves into a townhouse all on his own. His long-time girlfriend is not too happy when she finds out what he's done. His plan of maintaining his independence backfires when he soon learns he's not alone. The house has two tenants, the bickering ghosts of socialites Max Gale (Michael Caine) and Lily Marlowe (Smith) who press the young bachelor with unsolicited romantic advice.
Watch Curtain Call on Netflix.
5. A Room with a View
In this 1985 adaptation of E.M. Forster's novel, Charlotte Bartlett (Smith) chaperones her younger cousin Lucy Honeychurch, played by Helena Bonham Carter, to Florence, Italy. As expected, Honeychurch falls for a young man and it's all sorts of trouble. Luckily she has her heady cousin to keep an eye out for her.
Watch A Room with a View on Netflix.
What's on your playlist? 
Read More
Filed Under: