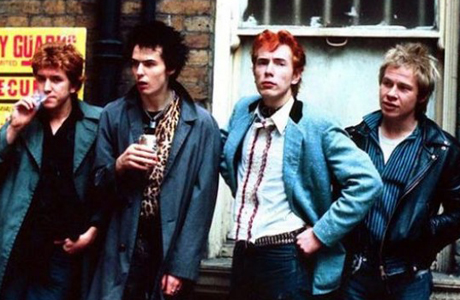 Whether you're a fan of One Direction or not, you've most likely seen clips of their new documentary This Is Us. It's pretty bad-ass when bigger-than-life bands invite us backstage, giving us a glimpse of what goes on behind closed doors. Let's just say they're not all "happy days" stories like 1D's. Here are five British music documentaries that let us and the cameras in on the secret:
1. The Filth and Fury
Released in 2000, this film depicts the rise of the infamous English punk band the Sex Pistols, taking us back to their humble beginnings in London during the 1970s.
Watch The Filth and Fury on iTunes.
2. Living in the Material World
It's the quiet ones who always have the most to say, which is why director Martin Scorsese's 2011 portrait of The Beatles' lead guitarist George Harrison is so intriguing.
Watch Living in the Material World on iTunes.
3. Meeting People is Easy 
English rock band Radiohead gives us a look at the non-glam side of tour life as they finish and promote their third album in this 1999 release.
Watch Meeting People is Easy on iTunes.
4. Glastonbury
This 2010 release gives us a feeling of what it's like to be at the world famous music festival held in Pilton, England with performances from artists including Paul McCartney, Coldplay, Oasis, Bjork and others … minus the mud, lack of toilets and millions of people.
5. Amy Winehouse — The Day She Came to Dingle
Unfortunately, we know how Amy's story ends. But this is one bright day in her life when she and a friend made the trip to Dingle, a town in Kerry, Ireland for a bit of inspiration … but she may have inspired the town's residents instead.
Watch The Day She Came to Dingle on iTunes.
What's on your playlist?
Read More
Filed Under: