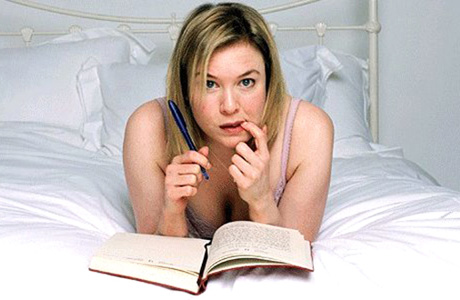 There's no easy way to say this, and actually if you're the kind of person who hates a spoiler, maybe it is for the best that you don't read it.
Here's a selection of other Anglophenia posts you could try instead:
Dating a British Man
Colin Firth's Wife Wants Less Tinker Tailor, More Bridget Jones
Benedict Cumberbatch: Unlucky in Love
If you're still here, I've got some bad news. Y'know how the Bridget Jones series is all about the internal monologue of a woman who is just trying to make her way in this modern world despite being a little bit prone to irrational rages and clumsiness and suffering from various addictions and self-critiques? And y'know how it all comes right in the end because she gets to hook up with Mark Darcy (after more than a few misadventures), and he's basically the ultimate man of her dreams, her happy ending?
Well, he's dead. He died five years ago, leaving Bridget to raise their two children on her own, and start up a new affair with a younger man.
That's where Mad About The Boy, the third book in the series, begins, and we know this because some extracts from the book have been serialised in the Sunday Times magazine. Suddenly we're a little way from the everywoman with understandable (but avoidable) neuroses, and into a darker realm altogether.
Now, this is clearly a tough sell, not least for the producers of the next Bridget Jones movie, who may possibly have been hoping to plaster "OSCAR WINNER COLIN FIRTH" all over their promotional literature. There again, it may also have spared them the embarrassment of casting a new Mark Darcy if Colin's elevated stature kept him from appearing, or possibly the idea of a Darcy-less Jones is so unappealing that fans won't want to read the book at all.
Certainly the early feedback from social media (as reported by BBC News) is that people are fed up, but then the book hasn't been released yet, and it's entirely possible that this is the best Bridget Jones book of the entire series. We won't know until October 10.
But you have to admit, Helen Fielding has a LOT of nerve…
Read More
Filed Under: