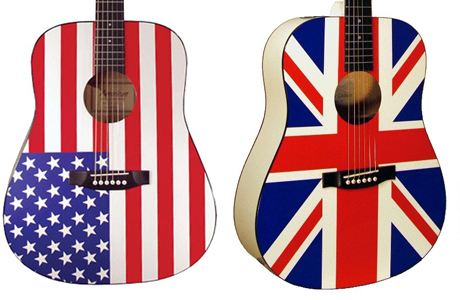 If you're a British musician thinking of relocating to the United States, there are several things to consider before setting sail from Blighty. (The first is that this isn't the 18th century, and you should probably take a plane; it'll be much faster and you're less likely to contract scurvy. But there are many other practical matters to think about too.)
Get the paperwork
The boring one, but the most important one. Don't even think about leaving without first obtaining a visa. Seek advice from an immigration lawyer and ask any expat friends you may have for tips. If you've already had a successful career in the U.K., this will help your case, but you'll still need an American company to sponsor your visa. It's good practice and highly recommended to take an extended vacation in your city of choice before moving there so you can familiarize yourself with the area, people, and culture. The last thing you want is to be caught with your pants down not knowing what a fanny pack is.
Pick the right city
Although New York and L.A. are the obvious choices, there are many other cities in the U.S. with vibrant music scenes. If you play a heavier, grungier style, you might want to consider somewhere in the Pacific Northwest like Portland or Seattle. If your jam is country or Christian music, Nashville is the town for you. Jazzer? Head to New Orleans.
Line gigs up before you leave
Most toilet venues will hire any act, so book a few shows before boarding the plane. Ideally you'll want to support a local act with a decent following so you're not just playing to the bar staff. Do the research then approach the venues and bands. Smaller gigs are the best way to learn about the local scene while you earn your stripes.
Get a converter for electrical equipment
Keyboards have a tendency to blow up if they're plugged in wrong. The U.K. operates on 240 V, whereas the U.S. runs on 110 V, so if you're bringing any electrical equipment, you'll need to buy a transformer.  You only want to figuratively bring the house down, you don't want to set fire to it and watch it burn to the ground.
Leave your ego at the border
Nobody in the U.S. cares that you're quite big in Rotherham or that you once opened for The Human League at the Regent Theatre, Ipswich. Be humble, be polite, be willing to learn.  You're starting from scratch here.
Network, network, network
Once you arrive, go to as many gigs as possible and make friends with other bands. They will have a wealth of useful information to share with you about the local scene. Attend any event that industry people will be at and introduce yourself. Your music is your calling card; give it away for free along with a business card with your name, contact details, and links to your social media sites.
Use your Britishness to your advantage
If you haven't relocated to New York or L.A. where Brits are ten pence a dozen, then you'll be something of an exotic treat in your new township. Drop stuff accidentally on purpose so you can say quintessential British things like "Whoops-a-daisy." This will charm the locals into wanting to help you.
Play the SXSW festival
Every year in March, the entire music industry descends en masse to Austin, Texas for the SXSW festival. And you need to be there too. If you can't get on the "official" bill, worry not.  There are hundreds of unofficial shows that will give almost anyone a gig. Failing that, you can always set up and play in the middle of the street. The important thing is to have a presence and be building your contact list through meeting managers, A&R types, agents, bloggers and vloggers. The CMJ Music Marathon in New York is a good one for British bands too.
Touring: Be prepared to drive. A lot.
In England a four-hour drive will get you from one end of the country to the other. Here in the States, it won't get you out of Oregon. That's because America is big. Really, really big. And if you want to break it, you have to tour it.
Don't be afraid to say no.
While dressing up as a cheeseburger and performing one of your songs on a commercial might pay a couple of thousand dollars, one day you'll regret it. Your act is a brand; don't compromise it.
Jon Langford (@Jon_LangfordNYC) is bassist for the British band The Chevin (@thechevin). Check out their music on iTunes.
See more:
What British Actors Should Know Before Moving to Hollywood
10 Ways To Find Other British Expats Near You
Brunch, Baseball and Four Other American Crazes That'll Drive You Crazy
Did you come to America for your art? Join @MindTheGap_BBCA on Twitter today (October 9) at 2 pm ET to discuss the struggles and opportunities you've found in this country. Tweet using hashtag #MindTheChat.
Read More
Filed Under: