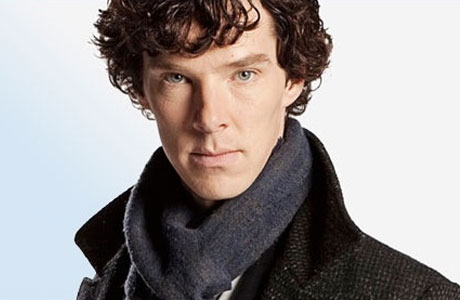 There is a fantastic interview with Benedict Cumberbatch in The Hollywood Reporter right now, in which he rather grumpily hacks away at a good few of the recent big stories around his future career plans, bickers with his interviewer, confirms that he's doing Season Four of Sherlock, and generally has a fine old time restating his core principals of burning intelligence, commitment to his work, and taking the barest minimum of prisoners.
Here are a few highlights, which should not distract you from going and reading the whole thing:
On Julian Assange begging him, via email, to pull out of The Fifth Estate, even during the filming: "He was pretty keen for me not to do the film, and the rest is sort of between us, really."
"The thing is this: I have a profound respect for Julian. I also have a profound respect for the need of states to have a currency of secrets in order for Western democracy to exist and for fundamentalism to be defeated. And I don't think Julian is interested in fundamentalism triumphing."
On the possibility that he will be in the new Star Wars movie:
"I don't know. Who knows, who knows? Nothing is known of that. I worked with J.J. [Abrams]. Obviously, he knows. Everyone who wants to be part of that film, they know about."
On the idea that he pulled out of Guillermo Del Toro's Crimson Peak because he was offered Star Wars:
"Absolutely not. No, no, no, no. That was nothing to do with it at all. [It was] between me and Guillermo, to be honest. It was amicable, and that's all I'm going to say."
On the internet's fondness for angry dialogue:
"[it] is horrific. You can't win. It's like a new form of bullying. I find it quite despicable."
On dealing with fan art:
"I've kept a couple that are stunning, that are just really beautiful drawings, and the rest I've had to give away. And I've told fans, 'Look, I'm very flattered, but what do you expect me to do with it? Think about it. Would you want your room surrounded by drawings of you?' It's a bit weird."
And a final thought, on how to deal with being Benedict Cumberbatch in a world that seems particularly partial to Benedict Cumberbatches at the moment:
"Sometimes as an actor you're looking for the infinite. If you can hold that, if you can remember that in the chaos, [it will] anchor you and give you grace and ease."
Oh and did you know Benedict's replacement in Crimson Peak will be Tom Hiddleston? Seems a fair swap.
Read More
Filed Under: