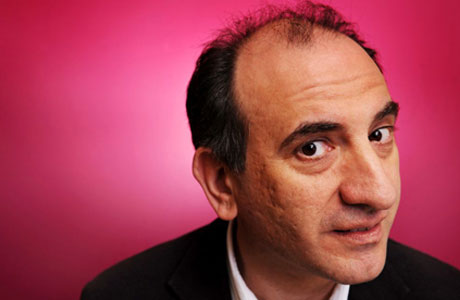 We already know that comedy writers make good Doctor Who writers – Douglas Adams, Mark Gatiss, Richard Curtis, to name but three – so amid all the global hoo-hah over whether Peter Jackson will get to direct an episode, let's spare a moment to create our own little extra hoo-hah (technically a Who-hah) over the possibility that Armando Iannucci might one day get to write one.
It's not the worst idea in the world, given his track record at creating realistic situations of political jeopardy in The Thick of It and Veep, that have a strong undercurrent of comedy. And it's not as if he has no experience of writing words that sound good coming out of Peter Capaldi's mouth.
Granted, a lot of the words he's used in the past would be entirely unsuitable for the Doctor, but it's not as if there aren't other ones he can use instead. There are a lot of words.
And he's keen, according to What's On TV. Here's how he reacted when the question was put to him:
"I'd love to! Steven Moffat hasn't asked me, but it would be great because I love sci-fi and I grew up with Doctor Who as well.
"I was so pleased when I heard that Peter had got the role. He had a part in the show a few years back and he told me that when he went on set and saw the TARDIS, he nearly cried! He's a massive fan."
And he's not the only one:
"My kids are also big Doctor Who fans so the idea that someone who's been in our house will be the new Doctor Who will be amazing for them!"
And it's fairly clear that the new Doctor will be a universe away from Peter's most famous creation to date:
"He won't be Malcolm – that's the thing. I think some people will be surprised because he's a fantastic actor. He's really funny, so I imagine there'll be lots of humour there, but he can also be powerful and tragic. It'll be interesting to see if they do stories that allow him to play to those things!"
Funny, powerful and tragic things on Doctor Who? Yeah, it has been known.
Read More
Filed Under: