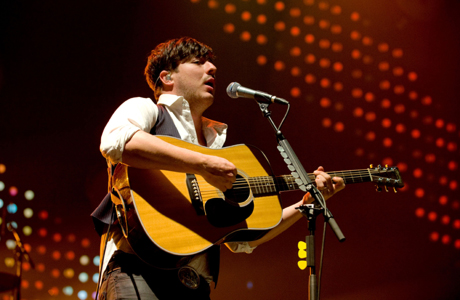 No.
I mean it, no they're not.
There's a story hitting music sites at the moment, told somewhat gleefully, in which people who don't like Mumford & Sons have jumped upon a quote from one of Mumford & Sons about the future plans of Mumford & Sons, and decided to throw an extrapolation party.
Last week, Ben Lovett (keyboards, and garrulous mouthpiece for the band), told Rolling Stone that after their last planned performance supporting their second album "Babel," they'll be taking a break, having worn their travelling shoes to a wafer (and nearly lost a bass player along the way).
The show was on September 21, in Bonner Springs, Kansas, and beforehand, Ben said this: "There won't be any Mumford And Sons activities for the foreseeable future following Friday's show."
Rolling Stone then asked for how long the band would need to take a break, and Ben replied with the true exhaustion of someone who doesn't want to see another deadline for quite some time: "We have no idea. We just know we're going to take a considerable amount of time off and just go back to hanging out and having no commitments or pressure or anything like that. It feels like the last week of school right now, before school holiday when you're in high school. The atmosphere on the road is one of . . . I think everyone's excited about being free of schedules.
"We're just going to rest up. I don't think we've had actually much time in the process to be with other people and living a life outside of the band. I think that's what's in place at the moment, to do very little – especially when it comes to Mumford & Sons."
Somehow, this innocuous statement of saturation and stock-taking is being interpreted as a resignation letter to the boss of rock. There's a sense of giddiness in some of the reports, especially on Twitter, and no doubt when the band do get back together to consider their third album – which they will do – those same commenters will claim they've somehow gone back on a promise, and call them names for that too.
Whereas it seems far more likely that they're just bored of the 30-odd songs from which they have made their name, having played them so often for so long in so many different places.
So it's just time to take the wheels off the well-oiled machine and tinker with the engine for a bit. Or just shove the whole damn vehicle in the shed, buy a motorbike and bomb around.
Read More
Filed Under: