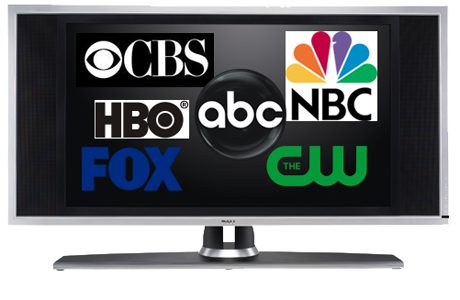 Fall has arrived and with its changing leaves comes the return of the new primetime season. Our favorite shows may be coming off hiatus, but there will be plenty of new ones to get your claws hooked into, and with them, some familiar British faces. (Some of them even speaking in their own native accents!) So grab your pumpkin-spiced latte and take a look at this list of "Britished-up" shows:
Tom Mison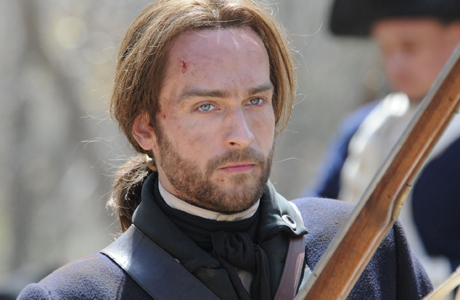 You'll find him in: Fox takes a new look at the classic horror tale, Sleepy Hollow, which premiered September 16. Mison will be playing Ichabod Crane, a man who "died" protecting General George Washington in battle, and has now awoken after 250 years. But he's not alone: the Headless Horseman is also up and menacing present-day Sleepy Hollow, New York.
Accent on the show: Mison will be retaining his English accent for the role of the confused and misplaced Crane.
Where you've seen him: You may remember Mison as Potty Perowne in Parade's End, the miniseries that starred Benedict Cumberbatch, which aired earlier this year on HBO.
Iain De Caestecker and Elizabeth Henstridge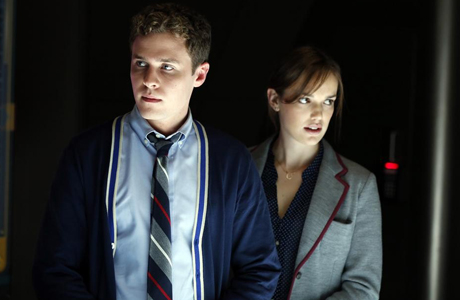 You'll find them in: Marvel's Agents of S.H.I.E.L.D, the upcoming show based on the Marvel Comics' organization S.H.I.E.L.D, a spin-off of the Joss Whedon film, The Avengers, will air on ABC tonight (September 24). The two will be seen as the engineer and bio-chem duo, Agents Leo Fitz and Jemma Simmons.
Accents on the show: Both will be holding onto their British vocal roots and sporting their English (Henstridge) and Scottish (De Caestecker) accents, respectively.
Where you've seen them: BBC AMERICA fans may recognize De Caestecker as Paul Roberts, the boy who could see dead spirits, in The Fades. Some may also recognize Henstridge from the pilot episode of The Shelter on The CW.
Michael Sheen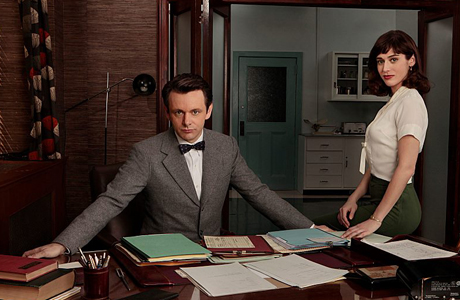 You'll find him in: The upcoming Showtime period drama Masters of Sex (premiering September 29) is based on the real lives of human sexual response researchers William H. Masters (Sheen) and Virginia E. Johnson (Lizzy Caplan). The show will follow the experiences of the two as they uncover the mysteries of human sexuality and the female climax, beginning their research in 1957.
Accents on the show: As he will be playing an American gynecologist and researcher, Sheen will be sporting an American accent in this sexy drama.
Where you've seen him: This is not the first time Sheen portrays a real-life figure. He played former Prime Minister Tony Blair in the films The Deal, The Queen and The Special Relationship; broadcaster David Frost in the film version of Frost/Nixon; and Leeds United coach Brian Clough in The Damned United. You may also know Sheen from NBC's 30 Rock as Liz Lemon's (Tina Fey) English "future husband" Wesley, after meeting her post-surgery in the dentist's waiting room.
http://youtu.be/pqF1nS-E5Ao
Sophie Lowe, Michael Socha, Peter Gadiot, Emma Rigby, and Naveen Andrews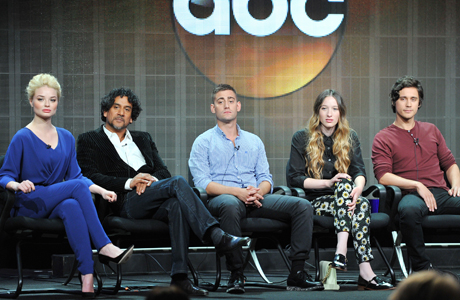 You'll find them in: ABC's Once Upon a Time in Wonderland (premiering October 10) — a spin-off of the show Once Upon a Time — will feature not one, not two, but five British-born actors. The show takes a twist on the classic tale of the little girl who fell down the rabbit hole in Lewis Carroll's Alice's Adventures in Wonderland. The storyline follows Alice after her return to Victorian London from the other side of the looking glass. Sophie Lowe will star as Alice, who returns to Wonderland after being rescued from a dire fate by the Knave of Hearts (Socha) and the White Rabbit (voiced by John Lithgow). Together they embark on a journey to find Alice's lost love, Cryus, a genie (Gadiot) who may have been killed by The Red Queen (Rigby). The show will also feature a familiar evil Disney sorcerer from a different tale, Jafar (Andrews).
Accents on the show: A classic British tale will mean the actors will be heard with the according accents, many of their own. So far, previews have shown that such is the case for Lowe, Socha, and Gadiot, at least. As for Rigby and Andrews, well we will just have to wait and see if they will be changing their voices for their villainous characters.
Where you've seen them before: Though this is Lowe and Gadiot's first major roles for American audiences, BBC AMERICA fans will recognize many of the other cast members from shows such as Being Human, where Socha played the werewolf, Tom McNair, or Ripper Street, where Rigby was seen as Lucy Eames. Lost fans will also recognize Andrews as one of the passengers who landed on The Island after the crash of Oceanic Airlines Flight 815, Sayid Jarrah.
http://youtu.be/Y-ir6JhV2Zs
Mackenzie Crook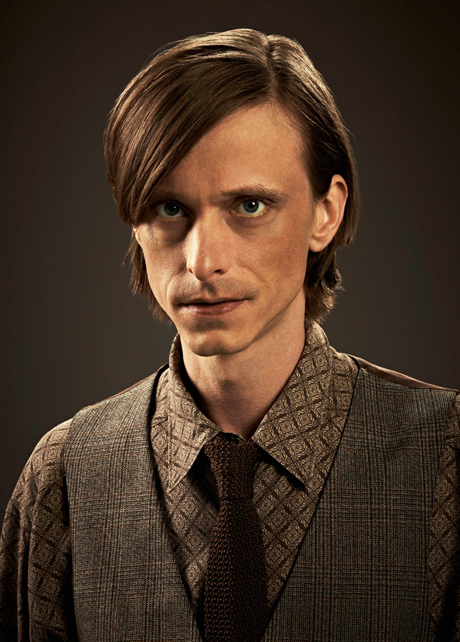 You'll find him in: Fox's J.J. Abrams-produced Almost Human (premiering November 4) takes place in 2048 where humans and androids work together in the police force. Crook plays Rudy Lom, a technician who pairs John Kennex (Karl Urban), a human cop, with a more humanoid-type machine that comes from a discontinued line, Dorian (Michael Ealy).
Accent on the show: Crook will be playing a Brit and using his natural accent.
Where you've seen him before: Crook is best known for his roles as Gareth Keenan in the U.K. version of The Office, Ragetti in the Pirates of the Caribbean films, and most recently Orell, the warg who can enter the minds of animals, in HBO's Game of Thrones.
http://youtu.be/ykwxg534yAw
Hannah Ware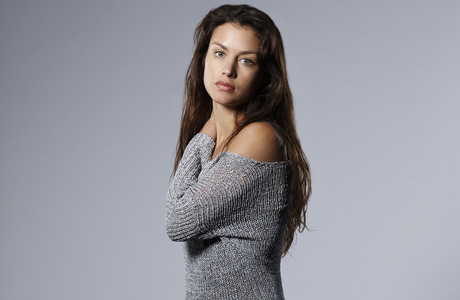 You'll find her in: Ware will be playing Sara Hayward, a married photographer who begins an affair with an equally married defense attorney Jack (Stuart Townsend) in ABC's Betrayal (premiering September 29). Things become even more complicated when Sara's prosecutor husband (Chris Johnson) finds himself taking on a high-profile murder case with Jack leading the defense. Betrayal is part of ABC's Sunday line-up and will follow Once Upon a Time.
Accent in the show: Ware will be playing an American in the show.
Where you've seen her before: Ware is best known for her role as Emma Kane on the STARZ series Boss.
Lenora Crichlow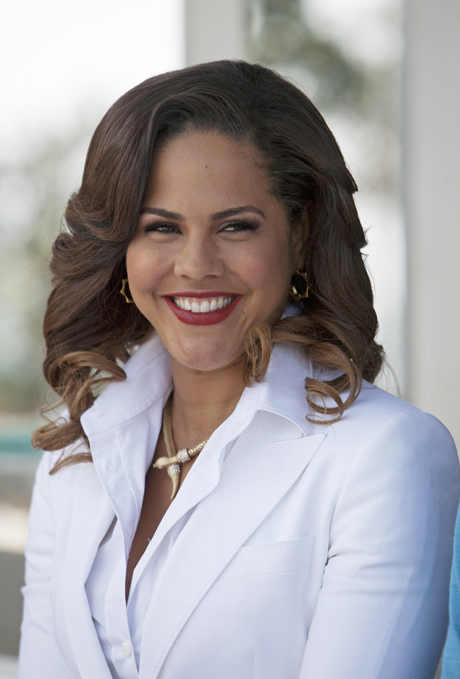 You'll find her in: You'll find Crichlow in ABC's upcoming show about little-league baseball, Back in the Game (Air date: September 25), where she'll be playing the widowed trophy wife, Lulu Lovette.
Accent in the show: Baseball may be as American as apple pie, but Lulu Lovette is certainly not. Crichlow will be sporting her British accent in the stands.
Where you've seen her before: BBC America fans may remember Crichlow as the ghost, Annie Sawyer, in Being Human. She also appeared as Cheen in the Doctor Who Season 3 episode, "Gridlock," set in New New York.
http://youtu.be/p_sJOoQvffc
Julia Ormond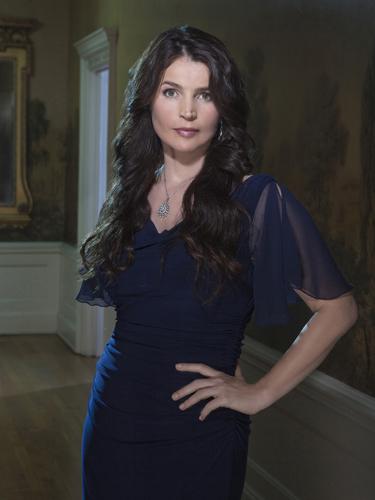 You'll find her in: Ormond stars as the head mother witch, Joanna Beauchamp, who kept the family powers a secret from her daughters in Lifetime's upcoming drama, Witches of East End (premiering October 6).
Accent in the show: Though we're not 100 percent sure, we believe Ormond will be speaking in an American accent as the witchy woman.
Where you've seen her before: You may remember Ormond when she played the title role in the 1995 remake of Sabrina. Most recently she's been seen in films such as The Curious Case of Benjamin Button, My Week with Marilyn, and her Emmy-winning role in HBO's Temple Grandin.
Jonathan Rhys Meyers & Katie McGrath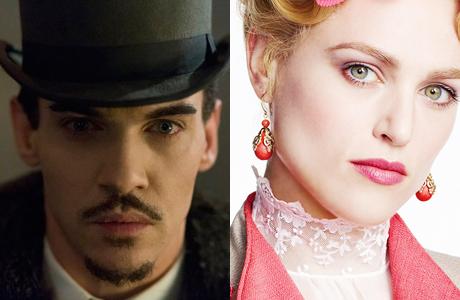 You'll find them in: Though they may not technically be British, two of our Irish favorites will be starring in NBC's upcoming Dracula (premiering October 25). Rhys Meyers will be playing the vampire legend himself, though his identity is often masked by his American façade. McGrath will play Lucy Westenra, the best-friend of Mina Murray (played by Jessica Du Gouw).
Accents in the show: The lead character, Count Dracula/Alexander Grayson/Vlad Tepes, is a Romanian doubling as an American entrepreneur. Rhys Meyers is heard sporting both a slightly English accent and also a southern American drawl.
Where you've seen them before: Rhys Meyers will come as a familiar face to BBC AMERICA fans as one of the most (in)famous British kings, Henry VIII in The Tudors. This isn't McGrath's first time appearing in a period piece, either, having also appeared on The Tudors, where she played Bess, and playing Morgana Pendragon for five seasons on BBCA's Merlin
http://youtu.be/Z1jVcmDH43Y
What shows are you looking forward to? 
Read More
Filed Under: