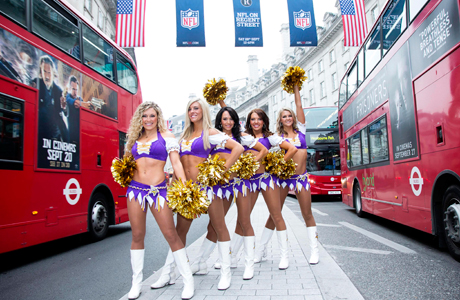 As an avid fanatic of what other British expatriates are quick to call "real football," I have grown more and more intrigued by that other sport of the same name (or, as we Brits like to call it, American football).
Actually, in recent years, some Brits have become more than just "intrigued," with an estimated 185,000 people actively watching games from back home. Moreover, since 2007 — as part of the NFL's International Series — games (rather than matches) between some of the U.S.'s leading franchises (rather than clubs), have been played at Wembley Stadium to much fanfare.
Indeed, this weekend (Sunday, September 29), Wembley will play host to a showdown between six-time Super Bowl champions the Pittsburgh Steelers and four-time losers the Minnesota Vikings, while the Jacksonville Jaguars take on San Francisco 49ers a month later.
If the sport is to ever gain success in the U.K., one thing it certainly has on its side is that, as an offshoot of rugby, it technically originated in England. Of course, precisely because of its apparent similarities to rugger, the odds of it ever catching on as a mainstream sport would appear slim.
However, in all-but-one of the six London games since 2007, the Wembley crowd has exceeded 80,000 spectators, with further audiences enjoying the games on BBC1 and Sky. Meanwhile, Jerseys bearing names such as Peyton Manning, Tim Tebow and Tom Brady are available on general sale in the U.K., while further names are sold during the annual Wembley event.
But while some aspects of the sport are appealing to Brits, game-day traditions such as tailgate parties can seem a little out there for newly transplanted expats. For the uninitiated, a tailgate party is when football fans grill a lot of food and consume alcoholic beverages from the back of a truck (as in a pickup truck, not a lorry) on the day of a game.
And then there's the game itself, which boasts an American fan-base almost as ardent as that of British soccer teams. In fact, British expats can often feel a little left out amid all the NFL parties and the "dress-in-your-team's-jersey" workdays.
On the pitch (or should I say field?), an NFL team can include 46 players in its game-day roster, compared to the 18-man match-day squads of the Premier League. And if soccer is referred to as a game of two halves, American football is a game of four quarters. The game is more stop-start than soccer, its rules often confusing to fans of the latter. In fact, after living in Indiana — home of the Indianapolis Colts — for almost five years, I'm still not sure I fully grasp phrases such "eligible receiver" or "illegal substitution."
That said, I have come to understand the positive influence NFL can have on American communities (much in the same way that soccer has around the globe). As a matter of fact, to this day I continue to enjoy the lasting economic and infrastructural effects of living in a Super Bowl city, almost two years after Indianapolis hosted Super Bowl XLVI.
Ironically, one of those effects was that the city was able to recently attract two of the world's biggest soccer teams — Chelsea and Inter Milan — an encounter that represented my first experience of the city's Lucas Oil Stadium. If Indianapolis wins its bid to host the Super Bowl in 2018, perhaps my second visit will represent my first live NFL game.
Hopefully by then I'll be clear on the rules.
Are there any British fans of American football willing to admit it? Show yourselves below:
See more:
Five Ways to Catch Premier League Football in the United States
How to Enjoy the Super Bowl When You Know Nothing About the NFL
10 Signs That You'll Never Move Back to Britain
Read More
Filed Under: