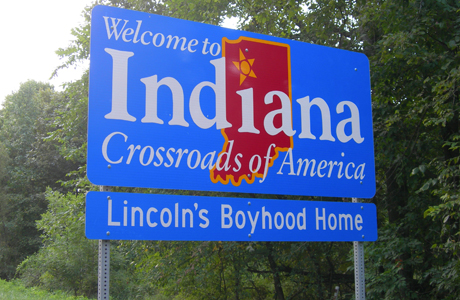 One of the most common questions I get from Hoosiers (a term of uncertain etymology, referring to the people of Indiana) is Why on earth did you give up London for little old Indiana?
While the answer to this question should be reserved for another time, I must ask in turn why locals offer such a bleak view of the very place they themselves call home. After all, and admittedly it took me a couple of years to appreciate this, Indiana is actually a fine place for anyone — British or otherwise — to reside.
While it is true that much of the state is a long stretch of flat land and cornfields, with little else between Louisville and Indianapolis except for the odd (sometimes very odd) water tower denoting the latest town, the Hoosier State, like any other, is chock-full of notable quirks.
Chief among these is something I like to refer to as Hoosier-speak. Hoosier-speak, as the name suggests, is a brand of English (adopted from other states) that is used without a hint of pretentiousness by the locals.
As if learning to decipher American English wasn't challenging enough, Brits such as myself must contend (and I use that term lovingly) with bizarre pronunciations such as warsh (instead of wash) and arn (instead of iron). It is also very common to hear someone ask Who all is going?, instead of merely asking Who is going?
Of course, this very same question is invariably asked around the time of a game. Because if there's one thing Hoosiers love, it's their football (and no, I'm not talking about the real kind). On what is known as game day, it can sometimes appear as if everyone in the state is dressed in the blue and white colors of the Indianapolis Colts. Everyone, that is, except for the British guy in the corner.
Thankfully for us expats, however, the state of Indiana — and specifically the state capital of Indianapolis — is actually quite Anglicized. In fact, as my namesake Brigid Brown points out over on Anglophenia, there are numerous British-style pubs and eateries in downtown Indy alone. These, of course, are one of several sources for watching football (yes, the real kind).
One of the finer aspects of life in Indiana, though, is the cost of living. Whereas one might pay in the neighborhood of £500 ($807) for a month's rent in a low-cost area of Britain, it is not unusual to pay the same figure in dollars for an apartment in and around Indianapolis, the second most populous capital city in America.
Moreover, though Hoosiers may not always recognize this fact, the price of petrol (or gasoline) is phenomenally cheap; generally ranging anywhere from £1.87 to £2.50 ($3.00 to $4.00), compared with the recent British average of £6.22 ($9.85).
However, while costs may indeed be reasonable, there is one thing about the state that fully deserves the label of extreme: the weather. The bitterly cold winters, which often bring temperatures of -10°F (-23°C), are enough for Brits to miss the climate back home (you read that correctly). Meanwhile, temperatures throughout the summer frequently rise above 100°F (38°C) and are accompanied by a level of humidity not entirely fit for humans.
By utter coincidence, then, autumn and spring emerge the more enjoyable seasons on the Indiana calendar, with the former producing not only bearable 68°F (20°C) weather, but some of the most beautiful sights of autumn foliage this side of the Pond.
Finally, the best part about being a British expat in Indiana is that you are an expat. A British one. In Indiana. Hoosiers love a good British accent (and a bad one, come to that), so the chances of ever making an enemy are practically zero. Of course, you'll have to endure a torrent of predictable questions: "Does everyone in England really drink tea?", "Why do y'all have bad teeth?" and "How come none of you warsh your hair?"
But if you can roll with the punches and are the sort of person who doesn't mind occasionally being center-stage, who can turn his or her nose to the weather, you might find that being a Brit in Indiana, unlike you hair (apparently), is actually pretty neat.
Are you British in America and live outside the typical destinations of New York or Los Angeles? Join @MindTheGap_BBCA on Twitter Wednesday, October 2 at 2 pm/et to stand up and be counted. Tweet your comments using the hashtag #MindTheChat.
See more:
British Expats: 10 Unexpected Consequences of Emigrating
10 Reasons to Be Cheerful About Living in the U.S.
10 American Places Every Brit Should Visit
Read More
Filed Under: