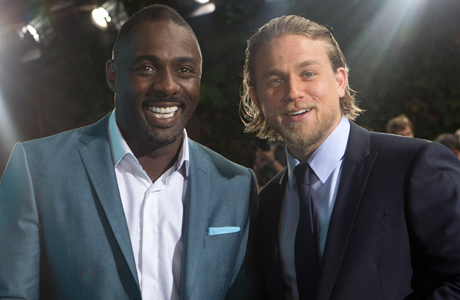 As the L.A. showbiz industry gears up for another pilot season and simultaneous awards season, a dolly-mixture of Brits either on the brink of stardom, or frustrated by stagnant careers equally gear up to fly southwest for winter, planning to create celluloid legacies and conquer the New World.
Although we are slowly giving back the superheroes (much to Ben Affleck's delight), notable Brits still permeate U.S. screens, from Damian Lewis in Homeland to Charlie Hunnam's upcoming Christian Grey in 50 Shades; from Lennie James and Mark Strong in Low Winter Sun to Stephen Moyer in True Blood.
Even shows shot elsewhere are often cast in Hollywood, and even yours truly has a turn in the upcoming series of 2 Broke Girls. So while it's no wonder we flock here in droves, it's equally no secret why many return, tail between their legs. If you're planning the trip, you and your tail should know this:
Do a research trip.
Unless you are shipped here under contract for a specific production, the move is a lifestyle choice, not just a career one. Excitement or intense drive can cloud your sensible judgment. You will be living in a new city, new friends, food, activities, routine, weather. You need to be acquainted and know you like it before you commit. You've seen Hollywood in the magazine? Your mates said you'd love it? That's also what your Uni friend told you about Gretchen with the #nofilter #obscured #selfie on MySingleFriend.com, but you're glad you met in person before moving in with her, right?
Get a Visa.
Make no mistake on this one. It's essential. If you're moving because you already got a big studio role, they'll have covered this base for you. But if you're coming here to pursue work as an actor, you need an O1 visa, or Green Card. Without this, you won't get a decent agent, and won't go for legitimate auditions. Oh, you had a friend that did? Me too. I also had another friend called Anomaly who skydived with a faulty parachute and survived (true story). I equally know people shortlisted for roles they can't accept, fined by studios for having incorrect visas, and annoyed casting directors. Not to mention the possible deportation by work-seeking without a visa. Get a consultation by a specialist entertainment immigration lawyer like Beltran Brito and you'll be in good shape, but be warned — like a good tan in Blackpool, it can take some time.
Consider a publicist.
Brits have an aversion to the blowing of one's own trumpet, however this one-man-bandsmanship no doubt helps fill one visa criteria of international recognition, while preparing you for the red-carpet-ready Hollywood pastime of self-promotion. Look for an entertainment-specific firm like London Flair PR (which represents me), or if on a budget, Google "free press release" and couple your alter-ego with a little keyboard elbow grease. Since I have known an actress who lost a role due to a low Twitter following, build out your online presence prior to setting foot stateside too.
Halt the showreel edit.
In your quest to be über-prepared and hit the ground running, avoid cutting a costly showreel before you leave. Instead, make sure you have high quality digital versions of all your clips. Cutting a reel in the U.K. for the U.S. market is like prepping a pizza for your lactose-intolerant, gluten-sensitive, vegan friend. Between too-many-cooks (agents/ manager/publicist), the difference in format, and the fact your episode of EastEnders gets mistaken for a student film and relegated to the end of reel (true story), it's best to compile when present, and you know what's required.
Earn in your sleep.
For those not flying in on a seven-year series contract, I would highly recommend setting up some residual or passive income stream before you arrive. Whether an online business, property rentals, writing a book, investing in shares, or locking in a rich and willing spouse/parent, it's advisable to have money rolling in consistently. Your expensive new life involves much starting over and contact-building, and you can't get a 'regular' job on an O1 visa. But before you decide the super-budget starving artist route, know that as much Hollywood success stems from social nepotism as pure talent, so it helps to be out on the scene. Just please, please don't start a Kickstarter for your party/headshot/apartment fund.
Insurance and Ambition.
Come armed with oodles of both. Americans are incredibly ambitious, so you'll need to keep up. They're also incredibly litigious so you'll need to pay up. Pick a good travel policy, such as a longstay option from Worldwide Insure or through Brit broker Beach Financial Group, as an injury or illness could eat up your new TV residuals like Friends re-runs eats up TV schedules.
Don't bring…
Your new headshot session – Get one when you're here. You'll need it, their way.
Your ego – no one will know or care about the one episode you did on The Bill. (Doctor Who or Downton you may get away with.)
Negativity and pessimism – fill your glass to half full, get ready to learn, ready to do.
Only summer clothes – there is a beach, but unless you plan to spend all your time on it, it's a normal working city. Pack the tux too, for that awards ceremony you're nominated at.
Laser focus on pilot season – your pilot auditions start once established in LA, unionized, and known amongst casting directors. Don't worry, there's plenty of those annoying already-commissioned multi-award winning TV shows and greenlit films that will actually air and make you money to concentrate on in the meantime.
Here are some useful resources:
LA Casting
Actors Access
Casting Frontier 
Beltran Brito
Get Me to Hollywood
Speed Reels
London Flair PR
World Wide Insure
Beach Financial Group 
Are you ready?
Read More
Filed Under: