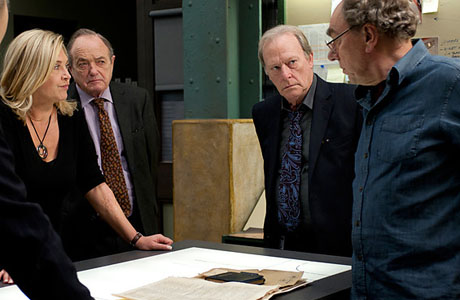 These old dogs can teach us new tricks.
What's on: New Tricks
What is it: This police detective show launched in 2003 as a one-off episode and based on its success, the BBC commissioned a 6-part series. Now, in its tenth season, it doesn't look to be slowing down. The story revolves around three retired police officers (original cast Dennis Waterman, Alun Armstrong, James Bolam) who return to the force after finding domestication a little humdrum. Detective Superintendent Sandra Pullman (Amanda Redman) is understaffed and inherits the seasoned recruits after she has a mishap with a hostage situation. The old timers give new life to abandoned cold cases.
Air-date: March 27, 2003 – present on BBC1
Who's watching: 7.5 million Brits
Why so popular: Sure, we all joke about retirement but in reality it's kind of scary. These guys are proof that there's life after retirement. Even so, viewers do enjoy watching the curmudgeonly crew as they struggle with new technology and figure out ways to work around rooftop chases as they're not really up for it stamina wise.
American counterpart: CBS's Cold Case revolves around a Philadelphia, PA police department that specializes in cold cases.
When asked about the on-screen chemistry between the actors, Waterman told the Radio Times, "There's no way you can predict that until you've made it. Maybe that's why audiences love us and TV execs are terrified."
While New Tricks has been around for a while in the UK, it's new to us. You can catch up on seasons 1-9 by ordering DVDs through Acorn Media or Amazon.com. The show is also available via Netflix's DVD service.
We'll go back to the season one trailer where we meet the fellas:
If you're already caught up, then here's a peek at the new trailer for season ten. A couple of new faces will be  joining the cast including Nicholas Lyndhurst (Rock & Chips) and Tamzin Outhwaite (Eastenders). It's a bit of fun to look at the difference between the first and current season:
Here's a look at the boys in action. They gate crash a wedding to get some much needed answers:
The ratings for the season ten premiere episode are in and they're a doozy:
The old dogs of #newtricks bounced back onto BBC1 with the day's highest audience – 7.5m/33.5% http://t.co/R8rsmh7Ibz

— Overnights.tv (@overnightstv) July 31, 2013
The New Tricks Twitter fan page helps keep us in the loop:
Only Brian could use Lego to solve a crime #newtricks #series10 pic.twitter.com/LnwNuDfE58

— BBC's New Tricks Fan (@Team_NewTricks) July 30, 2013
Another reason to tune in … arm chair traveling:
I love it when the team from #newtricks walks along the Thames & you see all the historic sites of London.

— Cindi LarsonCallaway (@LucindaLC) September 24, 2012
Are you going to catch up with the DVDs?  
Read More
Filed Under: