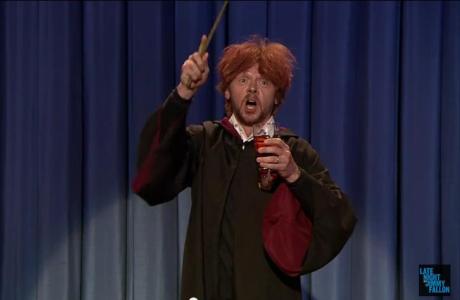 For those unaware — you muggles, you — yesterday was Harry Potter's 33rd birthday. The beloved J.K. Rowling character was given a shout out last night on Late Night with Jimmy Fallon, when fan, Hayley Talbert, reminded the host that Harry was turning a year older. Jimmy Fallon wished the wizard a good year with the help of Harry's best friend, none other than Ron Weasley.
An intoxicated Ron, played by English actor and comedian Simon Pegg, sang "A Jolly Good Birthday" to best mate, Harry. Dressed in Gryffindor robes, a red wig, and holding a wand in one hand and a drink in the other, Pegg went on to lead a chant of "Chug! Chug! Chug!" before downing his glass and exclaiming, "Hermione's left me!"
Pegg magically separated the curtains behind him using the spell, "Curtain openus!" and walked off stage with laughter from Fallon and cheers from the audience in the background. You can watch the video below:
Pegg tweeted about the appearance afterward from backstage:
Alright fine, I am a ginge. pic.twitter.com/N7WrBU6KkS

— Simon Pegg (@simonpegg) August 1, 2013

Simon Pegg will be appearing with Nick Frost later this month in The World's End, the third comedy film in the Cornetto trilogy, preceded by Shaun of the Dead and Hot Fuzz.
How did you wish Harry Potter a happy birthday? 
Read More
Filed Under: