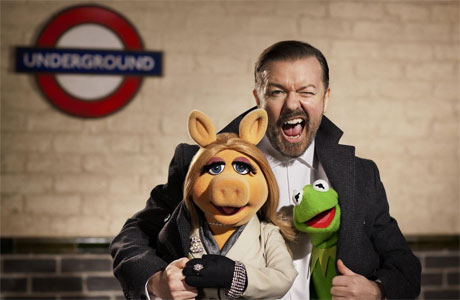 The full story of the mutually-besotted relationship between the Muppets and the UK is one that takes in the TV studios in which the classic series was filmed (Elstree in North London), the various talents brought in as special guests (John Cleese, Glenda Jackson, Bruce Forsyth), the great British songs that Muppets have sung, and the fact that it was commissioned and created in London, for the British TV mogul Lew Grade.
So you can see Ricky Gervais's involvement in the new Muppet movie, the second in the revitalised franchise, as part of a long tradition. Sadly he does not appear to be vocally represented within this, the first teaser trailer for Muppets Most Wanted, but hey, we still get to see Tina Fey as a prison camp guard, and it's not as if you watch a Muppet movie to see the humans.
Do you suppose the "Moves Like Jagger" bit is set in London, perhaps?
Read More
Filed Under: