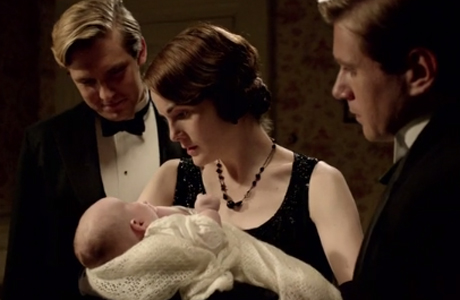 One-year-old twin boys Logan and Cole Weston have joined the cast of Downton Abbey, reports BBC News. The boys have wrapped six months of shooting, portraying Lady Mary Crawley's (Michelle Dockery) baby son George, now grown a bit.
In the season finale Mary's husband Matthew (Dan Stevens) lost his life just moments after meeting his young son for the first time, leaving her to be a single mum. The twins, who are from the village of Meathop in Cumbria, England, share the role since small children can only work for two hours a day in the UK and must take breaks every half hour.
Find out what their mum Charlotte thinks of their new gig (click on photo below):
What do you think of the newest additions to the Downton household?
Read More
Filed Under: