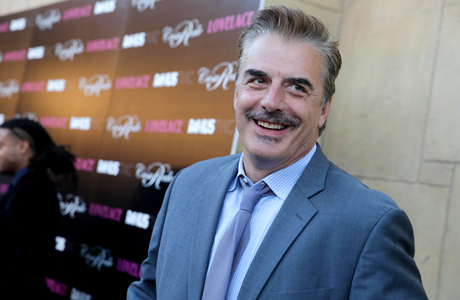 Chris Noth, still perhaps best known as Mr. Big from the TV series Sex and the City, is back onscreen this weekend playing a porn financier in the picture Lovelace which looks at the life and times of the world famous 1972 Deep Throat star Linda Lovelace.
When he was much younger, Noth often spent time in Britain because his mother worked as a reporter in Europe. He has very distinct memories. "It smelled different, it felt different, it felt like I was walking into a black and white movie as a kid when I went to London. It really felt sensually completely different than it does now to me, but that could be from being very young also," he says.
But nowadays he doesn't see such a difference between the U.S. and U.K. He says: "Today it feels like a lot of places — an extension of America in many ways."
He agrees that part of what's happened is the growing visibility of American corporate outlets overseas.
He says: "You know, people make a lot of money from it. I think it's not great in terms of having a different cultural experience in countries if they embrace just the materialistic side of what America has to bring, then they lose their own character."
Chris Noth was making these comments in the midst of a New York press event to promote Lovelace. It's a film that shows some of the more disconcerting aspects of Linda Lovelace's involvement with the porn movie business — and the controlling impact of her husband and manager Chuck Traynor, who in the film is seen physically abusing her.
Noth thinks there's a connection between pornography and violence — and that the film throws light on the negative workings of the business in the 1970's when Lovelace was making her hit film Deep Throat.
He says: "There's a dark side that was happening — and that you see a lot in pornography. It can be very damaging and was to most of the people that participated except for maybe the guys that made millions of dollars."
Noth doesn't have a big role in Lovelace, but he acquits himself well. The real star of the film is Amanda Seyfried, who plays Lovelace; portraying a porn star is a big change from her last onscreen role in which she played the innocent child Cosette in Les Misérables.
Read More
Filed Under: