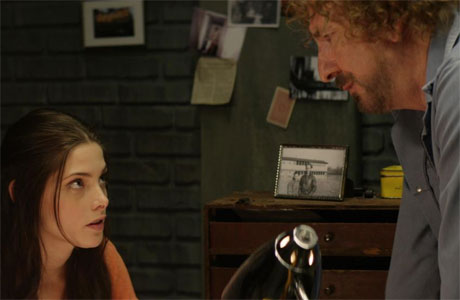 Rock biopics are notoriously hard to pull off. No matter how meticulously researched they may be, the clubs are always void of the atmosphere in which musical astonishment thrives, the actors playing the rock stars rarely have the same type of bullish charisma as the stars themselves and the audiences always flip from hostility to fandom by the end of the first chorus.
This does not mean it is a worthless endeavor to try and retell some of these stories, particularly when they involve colorful offstage characters like Terry Hooley, the record store owner who set up a punk label in the heart of Belfast during the lows of sectarian violence, whose story is retold in the wonderful Good Vibrations.
And then there's Hilly Kristal, founder and owner of the New York club CBGB (and OMFUG, to give it its full title) that helped kickstart punk rock, showcasing early performances by Patti Smith, Television, the Ramones, Talking Heads and Blondie, among many others. The two men clearly share a common approach to business matters and musical taste, and now Hilly's tale is being told in a movie named after his business too. CBGB stars Alan Rickman as Hilly, and is blessed with a huge variety of cameo appearances, as many as there are legendary punk stars in the story itself.
Here's a trailer, which should explain things nicely:
http://www.youtube.com/watch?v=O1ZNfaOpqKo&feature=player_embedded
And yes, Rupert Grint is in it too! As Cheetah Chrome of the Dead Boys! It's a veritable Harry Potter scuzzpunk reunion.
Read More
Filed Under: