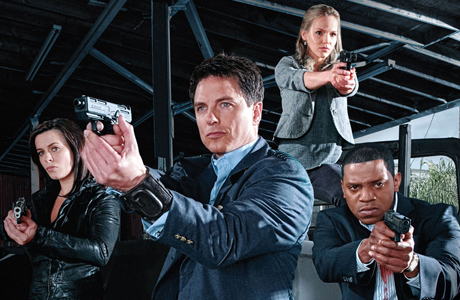 Mark your calendars for September 14: it's Miracle Day.
BBC AMERICA is set to give Torchwood: Miracle Day, the series' follow-up to Children of Earth, its non-premium cable television premiere. (The 10-part miniseries originally aired on Starz in 2011.) In Miracle Day, Captain Jack Harkness (John Barrowman) and former Torchwood agent Gwen Cooper are joined by CIA analyst Esther Drummond (Alexa Havins) and her partner Rex Matheson (Mekhi Phifer) as they team up to figure what happened on a day when people simply stopped dying. (Bill Pullman plays Oswald Danes, a convicted murderer who escapes death by lethal injection due to Miracle Day's events.) The revived Torchwood crew realizes that Miracle Day wasn't a miracle at all, and that mankind itself poses the greatest threat to the future of humanity.
Here's the official trailer from 2011:
And for a giggle, the Miracle Day in a side-splittingly ribald Comic-Con panel back in 2011:
http://www.youtube.com/watch?v=nPF-oOEFMa8
Torchwood: Miracle Day will premiere in Supernatural Saturday on September 14 at 9/8c. It will follow a marathon of Torchwood Season Two and Torchwood: Children of Earth starting Friday, September 13 at 11 pm/10c.
Read More
Filed Under: