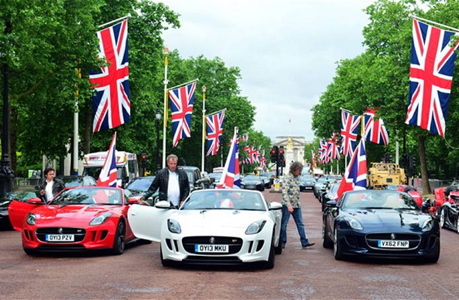 "It's been a ride," says Richard Hammond of Top Gear's 20th season, which concludes on Monday night (Aug. 12, 8:30p/7:30c) with, among other things, an enormous procession of the best of Britain on wheels.
Prompted by an invitation from Jeremy Clarkson, U.K. manufacturers drove an impressive array of cars across England to London, where they rolled by Buckingham Palace and down the city's famed Mall. Among the many car makers to join in were Rolls Royce, Jaguar, Land Rover, Mini and McLaren, as well as motorcycles from Triumph. And even Honda, which manufactures cars in the U.K., showed off its Britishness.
Also making the pilgrimage, as we first learned a few weeks back was James May, who drove a new 300,000 London bus from the Somerset coast to London to participate in the festivities.
And because it's Top Gear, there were also ice cream trucks and lawnmowers.
Still, the enormous gathering wasn't just one of the show's stunt gags — it was meant as a serious celebration of British automaking.
"I think everyone would have expected it to be us fooling around," Clarkson said, "but it will be quite a nice surprise to find we didn't."
The triumvirate gathered recently to for a look back on the current season, in a behind-the-scenes discussion for TopGear.com.
"I think started averagely, built up to a crescendo of goodness in the middle, and it ends in a rather odd way," said Clarkson.
Also on Monday's show: Australian Formula One driver Mark Webber is the Star in a Reasonably Priced Car. He, too, went "behind the scenes" with TopGear.com:
And here's this week's "action replay" — an out-of-control (is there any other kind for Top Gear?) race between Jeremy and James — and the two caravans (trailers) they're pulling:
And finally, if you think drivers here in the U.S. ignore speed limits, you're likely to find the case of Manchester, England's Shiad Mahmoon of some interest. According to the Telegraph, Mahmoon was clocked by a police helicopter doing between 144mph and 165mph – but cops think he might have been going even faster.
It's thought to be a record for a car in the county of Merseyside in North West England.
But even as Mahmoon was convicted and sentenced, he defiantly told the court: "I'm still going to drive — catch me if you can."
Read More
Filed Under: