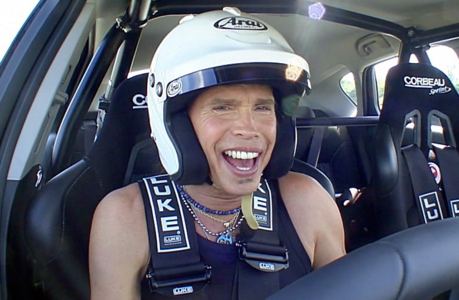 Next week's Star in a Reasonably Priced car is Aerosmith's Steven Tyler, a.k.a. the "Demon of Screamin'" a.k.a. Steven Victor Tallarico, which was the name he was born with.
The big question: can he translate even part of the energy of his colorful performances into racing speed on the Top Gear track? The other question: what kind of chemistry does he have with The Stig? Find out the answers to these and other questions, Monday, August 5, 8:30pm/7:30c.
In the meantime, here's a behind-the-scenes preview, courtesy of TopGear.com, in which musician Tyler talks about his inner driving soundtrack:
• And another behind-the-scenes peek at next week's show, also courtesy of TopGear.com: Richard Hammond, James May and Jeremy Clarkson take a look at Lamborghini's Sesto Elemento. Here are some things you should know about it: 1. It costs £2 million ($3.04 million). 2. It's made largely out of carbon fiber. 3. James says it looks like a stealth bomber. We agree.
But that's not all there is on next week's episode, as the show inflicts unspeakable tortures on mobile homes, so be prepared for Top Gear's patented caravan destruction porn. There will be blood. Okay, there probably won't be blood, but you can bet there'll be mayhem, as you can see from the photos below.
• Being wise and compassionate comes from being able to put yourself in other peoples' shoes so you can view the world from the different perspectives. What perspective could be more different — and hence bring more wisdom — than The Stig's? And in the service of promoting wisdom and the general welfare of humankind, BBC AMERICA, through its Twitter feed, makes The Stig's view of things available in weekly installments of the Stig Cam. Here's this week's, in which The Stig drove not just one but two cars: a Mercedes SLS Black and the 739 horsepower SLS Electric.
Also available through BBC AMERICA's Twitter feed was an "action replay" of Top Gear's invention of a "hovervan":
• The town of Milton Keynes continues to be obsessed with the fact that Top Gear has been filming there.
MKWEB reported that excited Top Gear fans flocked to the city's center, parts of which had been closed especially for the shoot, to watch Formula 1 cars from Red Bull and Lotus racing down the streets.
Milton Keynes is located in Buckinghamshire, about 45 miles northwest of London, and the segment featuring the city is scheduled to be in the sixth episode of this season, airing on BBC AMERICA on August 12.
MKWEB and town folk took to the internet to post their comments, photos and videos of Top Gear's visit.
https://twitter.com/Booky_Man/status/361567641485340672
Watching Top Gear being filmed in Milton Keynes. pic.twitter.com/xMpT4yKh7a

— Rhett (@Rhett1971) July 28, 2013
Read More
Filed Under: