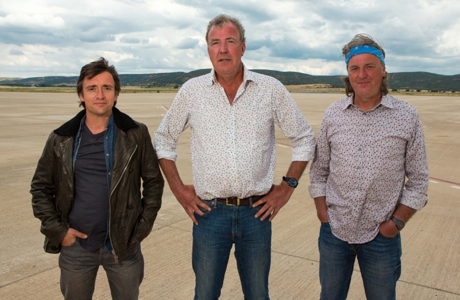 Often, when our favorite triumvirate travels around the world for Top Gear events, they are interviewed by local media. That's what happened when James May, Jeremy Clarkson, and Richard Hammond went to the Top Gear Festival in Durban, South Africa earlier this year. Among the questions the presenters tackled: "What's the best car to have sex in?"
You'll also hear some interesting comments about how the three guys work together.
"Because we spend so much time together, every little thing, no matter how trivial," Jeremy said, "we have to discuss for 9 hours, or we run out of things to talk about."
James agreed, citing as an example his drive to the North Pole with Jeremy, during which he said he spent two days discussing sandwich fillings.
"We don't have very much in common obviously, it's what fuels our creativity," James said.
• "I am so in love with Top Gear, it hurts," wrote Don Kaplan in the New York Daily News, adding that it has "got to be among the coolest series on TV" and that BBC AMERICA is "always a cool collection of characters."
• If you're already suffering withdrawal from the end of season 20, we've got some videos to help you through the holiday weekend. The first is executive producer Andy Wilman's recap of season 20.
"It's been a [bleep] to make," Wilman said, but added that good things come from adversity.
"What did I say six weeks ago?" he remembers. "Only watch the first one and the last one."
The second video is an excerpt, from season 20, of Jeremy Clarkson's turn behind the wheel of a car that he designed – the P45 – a vehicle he believes to be the smallest car in the world.
• The Beaulieu National Motor Museum in Hampshire has added the P45 to its collection – and it's also adding another vehicle from Season 20 – the "Hovervan," which, as you'll remember, is a cross between a car and a hovercraft that is intended to help people in flooded areas get around.
• The season premiere of the U.S. version of Top Gear, with American hosts Adam Ferrara, Tanner Foust and Rutledge Wood, airs next Tuesday, September 3 on the History channel. It's Season 4, and, no surprise, the trailer makes it look like it will be all about speed:
Read More
Filed Under: