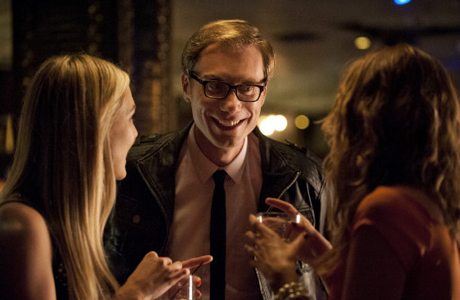 Why, hello sir. Fancy seeing you here. Stephen Merchant, co-creator and co-director of The Office UK and Extras with Ricky Gervais, is setting up shop at HBO with his new sitcom Hello Ladies, which is based on his 2012 stand-up special.
The eight-episode series is a fish-out-of-water tale of a gangly, awkard yet charming Englishman (Merchant, obviously) splashing his way through la la land LA. The thing is, one of the best ways to meet a woman is to just say hello versus some crazy pick up line or flashy advances. Hence, "Hello ladies …" but the one kink in that theory is that you have to, umm, talk after the introduction. That's where things go awry with Merchant. Luckily he's not alone and has a trusty wingman to help him out in the form of She's Out of My League's Nate Torrence.
Merchant understands people might think, "Really? Can he carry an entire show on his shoulders?" Well, he put together a little video for us, squashing some of those concerns, reading off fan comments and critic reviews from his message board:
"We'd quite like to see the lanky one do stand-up if there's nothing else on."
"A few comedians are good. Most are bad. Some are truly awful. Stephen Merchant is in a category of his own."
"Merchant is about as funny as he is handsome."
"Who the hell told Stephen Merchant he was funny." His gran did.
… need we say more?
Here's a short clip for the HBO series which premieres Sunday, September 29:
If that wasn't enough, check out his stand-up show here:
What do you think of Stephen Merchant's search for love?
Read More
Filed Under: