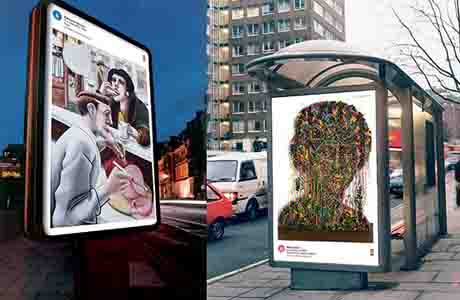 The Art Everywhere project is just that, it is everywhere. The nationwide exhibit kicked off at London's Westfield shopping center on Thursday, August 8, with artist Sir Peter Blake in attendance to oversee the unveiling of the large-scale digital reproduction of his work "The Meeting" or "Have a Nice Day, Mr. Hockney".
His billboard size piece of art is just one of 20,000 installations, which will be part of the UK–wide exhibit taking place from August 12-25. Spaces utilized include but are not limited to billboards, bus stops, major roads, tube and metro stations, shopping malls and office buildings.
The project will transform sites across the UK into great British masterpieces, including historic and modern, chosen by the public.
The top ten choices are below (you can view the entire list here):
1. The Lady of Shalott by John William Waterhouse


2. Ophelia by John Everett Millais


3. Head VI by Francis Bacon


4. Gassed by John Singer Sargent


5. Man's Head (Self Portrait) by Lucian Freud


6. The Fighting Temeraire by J.M.W Turner


7. Five Ships – Mount's Bay by Alfred Wallis


8. Going to the Match by L.S. Lowry


9. Nocturne: Blue and Gold – Battersea Bridge by James Whistler


10. Cold Dark Matter by Cornelia Parker

The poster sites are interactive, here's how to activate them:
Open app and simply hold your phone up to the poster, filling the cameras view with the poster image
Blipp! Poster jumps to life with more information
Let us know if you come across the exhibit! 
Read More
Filed Under: