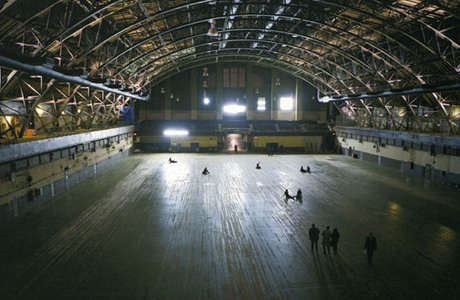 Sir Kenneth Branagh will make his New York stage debut in a production of Shakespeare's Macbeth at an army base, reports BBC News.
He made his return to Shakespeare after over a decade with his Manchester International Festival production of the Scottish general's strife after receiving a prophecy from three witches, which he starred in and co-directed with Rob Ashford.
The production will take place in a restored army base, Wade Thompson Drill Hall, which is a massive 55,000 square feet. The hall is located in the Park Avenue Armory located at 643 Park Ave., NYC, NY 10065.
"I am delighted that we have the chance to recreate Macbeth in this epic setting," said Branagh to BBC News.
Branagh has starred in and directed multiple film adaptations of Shakespeare's plays including 1996's Hamlet (Hamlet/Director), 1995's Othello (Iago), 1993's Much Ado About Nothing (Benedick/Director) and 1989's King Henry V (King Henry V/Director).
The NYC production won't be happening until summer 2014, so let's take a peek at some of his earlier performances:
Hamlet
Prince Hamlet seeks vengeance for his father's death.


Othello
Othello, a Moorish general, secretly marries Desdemona with the aid of Iago. 

 Much Ado About Nothing
An engaged couple conspire to match up Benedick.  

King Henry V
Young King Henry V has just assumed the throne.
If that wasn't enough Shakespeare for one sitting, you can Brit Binge on these Shakespeare adaptations that are available online.
Which of Branagh's performances stand out to you most?
Read More
Filed Under: