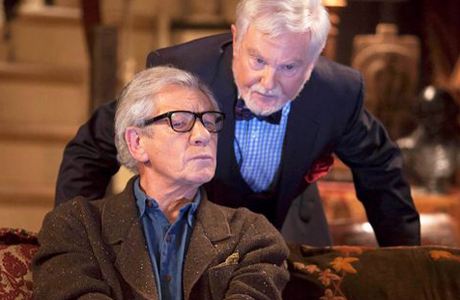 It isn't a huge surprise to learn ITV's Vicious has been renewed with its April, 2013 premiere kicking off with 5.7 million viewers. But, it is a nice surprise.
ITV's Peter Finchman, Director of TV, announced today, Friday, August 23, 2013, at the Edinburgh International Television Festival that the network has commissioned a second season, calling the show, "A very bold sitcom with a wonderful cast."
Real life friends Sir Ian McKellen and Sir Derek Jacobi portray a gay couple who have been living together for over 50 years. They are in a loving, committed relationship but sometimes they just don't really like each other.
The veteran actors have known each other since being undergraduates at the University of Cambridge and their history is apparent in their on-screen dynamic.
American writer Gary Janetti, who executive produced the successful roommate comedy Will and Grace, writes this very Britished Up comedy.
The first season received mixed reviews but Finchman didn't seem too concerned with the critics saying the series has "richly drawn lovable characters, there is lots more to do with it."
There's no official word that the show will be airing in the U.S. but there's whispers, with Deadline.com reporting, "negotiations are on the way."
That's something to chew on!
Is this something you'd like to see in the States?
Read More
Filed Under: