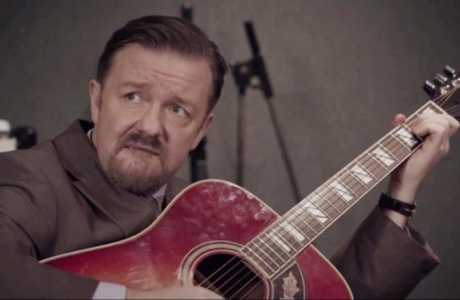 Although the U.K. version of The Office ended almost a decade ago, it seems Ricky Gervais just can't leave the character of David Brent alone. The former paper salesman first made a reappearance for a couple of cameo appearances in the U.S. version of the sitcom, before making a full-on return earlier this year in a ten-minute special for the charity telethon Comic Relief.
More recently, Gervais has begun publishing a series of videos entitled Learn Guitar With David Brent directly to Youtube – and it's out of this that, according to The Hollywood Reporter, he's planning to take the character one step further and on to the silver screen.
As part of an interview with Gervais to promote the U.S. launch of his latest series Derek on Netflix, THR claim that he "hopes [the Youtube series] will be the basis for a movie about Brent trying to make it in the music industry". It's also said that in tandem with this, Gervais is in rehearsals with a band to play some high-profile charity gigs as Brent later this year.
The chance of music industry success as one of his characters has taken the actor, who played in a failed pop band in the 1980s, by surprise. He recently told British newspapers, "I can't believe I'm getting ridiculous offers from major record companies all over the world for a David Brent album. Where were these people when I was trying to be a real popstar?"
Although Derek attracted some controversy upon its initial broadcast in the U.K. for its portrayal of the title character, Gervais is insistent in the THR interview that his intentions are noble. "I've never connected emotionally with a character before like I do with Derek. I love him. He's sweet, he's sincere, he's loving, he's selfless. He never judges people."
Derek launches on Netflix on Thursday September 12.
Read More
Filed Under: