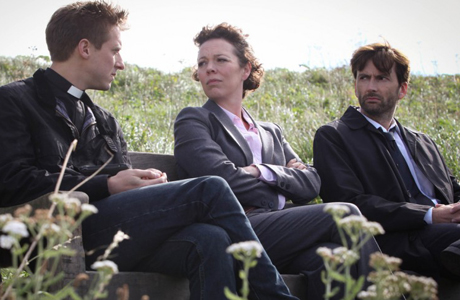 For a small, seaside town with no previous murders, there sure are a lot of suspects and suspicious behavior going on in Broadchurch after the body of 11-year old Danny Latimer was found on a sandy beach.
In the second episode of Broadchurch, BBC America's 8-part crime series, the two lead police detectives on the case, Detective Inspector Alec Hardy (David Tennant), and Detective Sergeant Ellie Miller (Olivia Colman), continue to work together warily to solve the crime, while Beth Latimer (Jodie Whittaker), the distraught mother of poor strangled Danny, has a big reveal.
Here's a recap of last night's episode:
Ellie and her husband are with their elder son, Tom, who was Danny's best friend. At the end of the debut episode, we had seen Tom delete messages from Danny on his cell phone and files from his computer. Clearly, something is making Tom nervous. He has been talking in his sleep, muttering his dead buddy's name. He tells Ellie he wants her with him when he talks to her colleagues at the police department.
Ellie is still attempting to befriend her stiff-necked new colleague, Alec, who was hired while she was on maternity leave for the job she had expected to be promoted to upon her return. Arriving at the police station, she tells him that she has brought him a cup of coffee. "I don't drink coffee," he snaps. Then he asks her to find out who owns in an empty cliffside house overlooking the murder site. He also says they need to locate a skateboard that Danny was seen riding the night of his murder and the boy's cell phone, which wasn't found on his corpse.
Pushy big city newspaper reporter Karen White (Vicky McClure), newly arrived in Broadchurch to cover the murder story, approaches Alec who dismisses her curtly. She next cozies up to Olly Stevens (Jonathan Bailey), the fledgling reporter at the hometown Broadchurch Echo.  She tries to pump him for information and get him to let her use an office or desk at the Echo while she's in town. Olly is amenable but Maggie Radcliffe (Carolyn Pickles), his veteran editor boss, is wise to Karen's wiles and politely tells her to get lost.
Alec goes to visit Jack Marshall (David Bradley, of Game of Thrones and Harry Potter movies), who owns the local newspaper shop. Danny delivered newspapers for him and he now recalls that, a month ago, he saw Danny having what appeared to be an argument with a postman. (As Jack tells his story, viewers see Danny and the postman pushing each other.)
Meanwhile, Ellie, who is a close friend of the Latimer family, is overseeing having the entire family fingerprinted. "It's just to rule out your prints from anything we find here," she tells them, as her colleagues search Danny's room and the rest of the house for clues.
Beth hands Ellie a list of names of people who might of murdered her son that she and her husband, plumber Mark Latimer (Andrew Buchan), have compiled.
Reading over the list, a shocked Ellie says, "These are all your friends."
"Yes, we know," says Beth. Beside her, Mark looks glum.
A cop emerges from Danny's room and takes Ellie aside. He tells her they've found £500 in cash in Danny's room and cocaine in the room of Chloe, Danny's 15-year old sister. "Bloody hell," says Ellie.
Karen continues to work her charm offensive on Olly. She offers him an attractive quid pro quo: help her on the story and she will help him advance his own career.
Alec and Ellie start working the cocaine angle. Chloe (Charlotte Beaumont), after pleading with Ellie not to tell her mother about the coke, claims she was just holding it for Becca Fisher (Simone McAullay), the attractive owner of a local B&B where Chloe sometimes works. (What Chloe doesn't tell the cops is that she got the coke from Dean, her older, drug-dealing, motorbike-riding boyfriend.) When Ellie and Alec visit Becca, she tells them that a couple down from London wanted the coke and Chloe procured it for her but by then the Londoners had already left town.
Afterward, Ellie insists to Alec that Chloe's not a druggie or a bad kid. "She's not that type of girl; it's not that type of family," she says.
"It never is," Alec replies.
Back at the station, Alec is secretly gulping pills after suffering some sort of attack. He's breathing hard and looks anxious. What's up with that?
Alec and Ellie track down the village postman. He claims he never had an argument with Danny and tells them that, on the night of Danny's murder, he was out getting drunk with pals.
At the local supermarket, Beth finds herself the object of piteous stares from townspeople. She flees the store for the parking lot, where a well-meaning neighbor comes up to express his sympathy. Beth loses it, hitting a light pole with her car, and then crying and collapsing into a heap.
The local minister, the Rev. Paul Coates (Arthur Darvill)–he apparently also has been grocery shopping–rushes over to comfort her. Tearfully, she tells him the big secret she has been keeping: "I'm pregnant." She forbids him from telling her news to anyone else, including her husband and mother.
Reporter Karen spots Chloe right after the teenager has angrily stormed off from a tête-à-tête with Dean, in which her selfish swain's main concern was whether Chloe had told the police about him. Karen returns to Chloe the stuffed animal the girl had left at the beachside site where Danny's corpse was found. Karen claims she'd only taken the toy because she was afraid someone would steal it. She types her name and number into Chloe's mobile. "If you need to talk, or a friend, or it gets to be a bit much, you can call me," she sweet-talks the girl.
Ellie and Alec are chewing over the case while chewing over lunch. ("What kind of a Scot are you?" an incredulous Ellie asks Alec when he tells her he doesn't like fish and chips.) Alec informs her that the postman's alibi for the night of the murder checks out. So was that all a big red herring?
Alec then tells Ellie she needs to look at Broadchurch and its residents as if she was an outsider. "You have to understand, anyone is capable of this murder, given the right circumstances," he says.
"Most people have a moral compass," Ellie insists.
"Compasses break," he replies. (Given the hints dropped in the first episode that Alec was involved in some sort of scandal at his previous job, one has to assume he personally knows about broken moral compasses.)
That night, Alec returns to his room in the B&B where he is temporarily staying. He pops more pills and looks at a photo in his wallet showing a young woman. Why the pills and who's the woman? We have no clue yet.
The next morning, a Sunday, Alec knocks on the trailer door of cleaning lady Susan Wright (Pauline Quirke), a gruff-looking, middle-aged woman. Alec asks her for the keys to the cliffside house, which she cleans. "Why? Is it about that boy? Show my your i.d. again," she tells him. She leaves Alec standing outside her trailer while she fetches the keys from a box in her closet. Wait a minute! Is that a skateboard propped up inside her closet? Is it Danny's?
After a Sunday meal out with her family, during which she has reassured her son Tom that no one is going to murder him, Ellie is back in the office with Alec. They're looking at CCTV footage that shows that on the night of the murder, Mark Latimer was at a parking lot near the beach, which contradicts his alibi about being at a job that night.
A telephone repairman, Steve Connally (Will Mellor), who earlier had been seen suspiciously skulking around police headquarters, interrupts the pair. It turns out he's a psychic and has a message from Danny.  "Nothing offends me more than cranks wasting police time," says Alec, dismissing as "horseshit" Steve's tip that Danny was in a boat.
The mild mannered Steve doesn't seem particularly offended. "She says she forgives you, about the pendant," he tells Alec, before walking out.
Alec looks shocked, and grim.
"What did he mean about the pendant?" Ellie asks.
Alec remains silent.  Clearly, he has some major baggage still to be opened.
In a television interview, Rev. Paul is seen saying he supports the Latimers. An angry Mark heads into town to confront the minister. "Enjoy your moment of glory, did you? I don't need your support. Your God left my son for dead!" he tells the clergy man, shoving him.
Alec meets with Mark outside the Latimer house and tells him about the CCTV footage. Why did Mark lie before and what was he doing there that night? Mark says he was meeting a mate but claims he can't remember the friend's name.  Alec asks, "Is there any reason you wouldn't want to tell me the name of your mate? This is only about who killed Danny, nothing else."  Mark looks uncomfortable as the camera pulls back to reveal Beth watching him and Alec from a window inside the house.
It goes from bad to worse for Mark. Ellie stops by the cliffside house where a police investigator reports to her that the house appears to have been thoroughly scrubbed and cleaned. However, a single bloody fingerprint belonging to Danny was found near the door. Oh, and there's something else.
Ellie gets on the phone. Alec is on the other end. Ellie tells him that a second set of prints have been found near the sink at the home. "They belong to Mark Latimer," she says.
The closing credits roll.
So, what have we learned? Alec has a medical malady he doesn't want others to know about, Ellie is going to have to accept that her neighbors aren't all nearly as good folk as she has always believed, Karen will do whatever it takes to get the story, and members of the Latimer family are all keeping secrets from each other. We viewers will just have to tune in next week (or go searching on-line for spoilers, but that's cheating) to find out what happens next.
How did you like this episode?
Read More
Filed Under: