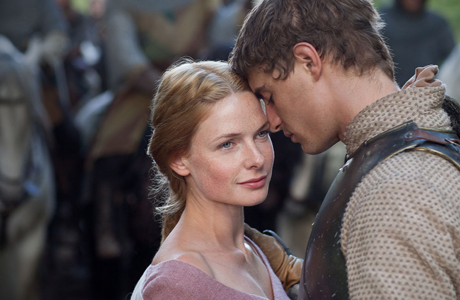 Oh, those misbehaving British royals! It's non-stop bedding, conniving, conspiring and even murder with them.
Before you get too excited, we're not referring to the current occupants of Buckingham Palace and Windsor Castle but rather to the royals of yore, meaning the 1400s.
They are the focus of The White Queen, a new, 10-part historical drama that hopes to attract the same fans who have turned The Tudors and Game of Thrones into hits.
The series begins airing on the Starz pay cable channel this Saturday, Aug. 10.  A co-production between Starz and BBC and shot in Belgium, the show debuted in June in the U.K., where it was given a coveted Sunday night slot on BBC One.
Based on a trio of historical novels by Philippa Gregory, The White Queen tells the story of Edward IV, whose reign brought end to the War of the Roses, and the women around him. He begins as a dashing, impetuous young monarch battling to keep his throne and consolidate his power. Over the course of two decades, the randy royal is depicted as seeing more than his share of strife, both marital and martial.
The series focuses on three women who played important roles during Edward's rule, either by supporting or by conspiring against him. They are Lady Elizabeth Woodville, a comely young widow whom he falls in love and lust with, weds and makes his queen despite her lack of royal blood; Lady Margaret Beaufort, a pious martyr intent on seeing her own son assume the throne; and Lady Anne Neville, an intelligent young woman who becomes a pawn to the ambitions of her powerful father, the conniving Earl of Warwick.
The series stars hunksome Max Irons (son of Jeremy Irons and Sinéad Cusack) as Edward. Playing the three major female roles are Rebecca Ferguson, an Anglo-Swedish actress who portrays Elizabeth; Amanda Hale as Margaret, and Faye Marsay as Anne.  Also starring in the series are Janet McTeer as Elizabeth's ambitious mother, and James Frain (The Tudors) as the evil Earl of Warwick.
White Queen offers up numerous scenes of Edward and other characters enthusiastically making both love and war. Reportedly, American viewers will get to see slightly longer versions than BBC One viewers did of several risqué romantic romps in which characters cavort in the nude.
The show's premiere episode received mixed reviews in the U.K. Barbara Ellen, reviewing in The Observer, called it "a bit of a trudge."  In The Telegraph, Gerard O'Donovan wrote, "As a straight romance it had its moments. As a dramatization of history it had serious failings, devoid as it was of any note of the hardship, chill and squalor of life in 15th-century England."
White Queen's debut episode on BBC One attracted 5.3 viewers, a respectable showing, but viewership has declined over the summer. The most recent episode was down by nearly 2 million watchers, drawing only 3.6 million.
Here's a promotional preview of White Queen from Starz:
Do you want to watch The White Queen?
Read More
Filed Under: