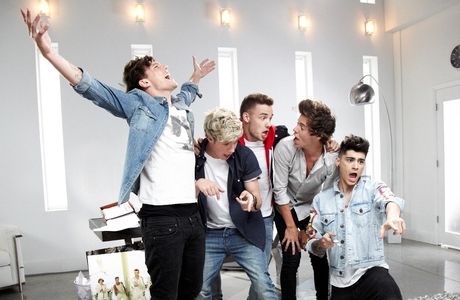 If you've heard boyband One Direction's new single on the radio recently and wondered whether you were listening to a cover of The Who's classic track "Baba O'Riley", you're not alone. A Twitter firestorm began this week after a writer on music blog ClickMusic accused the band of "plagiarism" when reviewing their hubristically-named hit "Best Song Ever".
It wasn't the first time the comparison had been made following the release of the single last month, but it was the most harshly-worded so far – and when even more people began to remark on the similarity, it led to hordes of angry Directioners taking to Twitter with the hashtag #donttouchbestsongever, in response to rumors that the Brit-rockers might be looking to get their lawyers involved. Listen below to compare the songs for yourself:
Despite the burst of furor, however, it turned out that The Who themselves were rather more forgiving of the apparent influence than many music reviewers. Guitarist Pete Townshend issued a statement via music magazine Uncut:
No! I like the single. I like One Direction. The chords I used and the chords they used are the same three chords we've all been using in basic pop music since Buddy Holly, Eddie Cochran and Chuck Berry made it clear that fancy chords don't mean great music – not always. I'm still writing songs that sound like Baba O'Riley – or I'm trying to!. It's a part of my life and a part of pop's lineage. One Direction are in my business, with a million fans, and I'm happy to think they may have been influenced a little bit by The Who.
More cynical readers might suggest that playing nice with the all-conquering boyband's self-proclaimed "psychotic and delusional" fanbase is a cunning strategy to try and get them to investigate Townsend's own band's back catalog – although if any Directioners do suddenly decide to become fans of 1970s prog rock, we suggest they don't take to calling themselves "Whovians". Because, you know, that one's taken.
Read More
Filed Under: