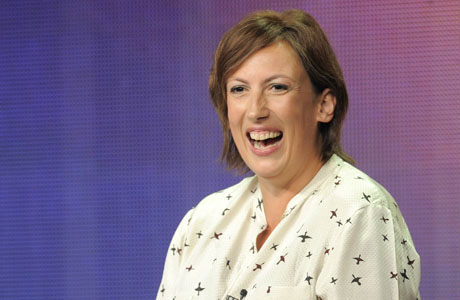 You never know when to take a comedian seriously but we don't think Miranda Hart is joking when she says she wants to tackle a Hollywood comedy and marry Friends star Matthew Perry (not necessarily in that order).
The BAFTA-nominated comedienne Hart, 40, attended the 2013 Summer Television Critics Association Tour in Beverly Hills, CA to promote the PBS show Call the Midwife in which she stars as Chummy.
We're guessing she did talk about the show itself but there was more focus on her plans while she was in Hollywood for the TCA event, reports Radio Times.
When asked about taking on a role Hollywood-style, she politely replied, "Yes, please. No, I haven't really explored [that]. I've been so busy back home. It's on the bucket list for sure to do a comedy film, even if it was just one line on the lot."
She doesn't seem to be too picky and it'd be a bit of fun and a giggle to make an appearance. You never know, a Hollywood producer may pick up on this and make it happen. If you think it, it can happen.
That may not be the case though with Mr. Perry. He's already spoken for, being in a long-term relationship with Lizzy Caplan (Party Down). Surely Hart knows this and talks about her crush on him in jest.
She followed up her movie plans with her main goal of meeting Perry and with confidence said, "We are to be married."
… or is she joking? She's spoken about him before saying, "Matthew Perry would be my ideal romantic lead. Imagine him with an English accent and black tie. I am quite obsessed with Matthew Perry."
Oh, Miranda!
Would you like to see Miranda Hart in a Hollywood film? 
Read More
Filed Under: