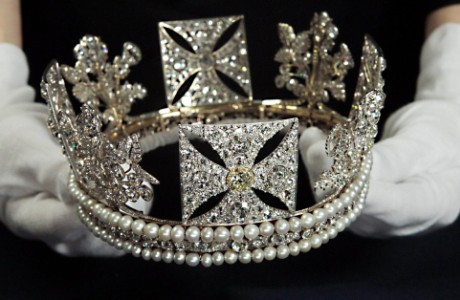 Since the announcement of the royal birth, line of succession to the throne has been in the limelight. (At the center of focus was the change in succession laws, which now states that an older girl cannot be dropped down in line to the throne in place of a younger brother. The child of Catherine, Duchess of Cambridge and Prince William was to be third in line to the British throne whether or not the baby had been a boy or girl.) Currently, the immediate line of succession goes as follows: Prince Charles, Prince William, and then Prince George.
While the laws of succession can be somewhat confusing, remembering the British monarchs of the past 1,000 years in chronological order can be even more difficult. So, here's a helpful mnemonic device often used in British schools to keep track of the British Monarchs from William the Conqueror forward.
Willie, Willie, Harry, Ste,
Harry, Dick, John, Harry three;
One two three Neds, Richard two,
Harrys four five six, … then who?
Edwards four five, Dick the bad,
Harrys (twain), Ned (the lad);
Mary, Bessie, James the vain,
Charlie, Charlie, James again.
Will and Mary, Anna Gloria,
Georges four, then Will, Victoria;
Edward seven, George and Ted,
George the sixth, now Liz instead.
Translated into proper names, the line goes: William I, William II, Henry I, Stephen, Henry II, Richard I, John, Henry III, Edward I, Edward II, Edward III, Richard II, Henry IV, Henry V, Henry VI, Edward IV, Edward V, Richard III, Henry VII, Henry VIII, Edward VI, Mary I, Elizabeth, James I (& VI of Scotland), Charles I, Charles II, James II, William III and Mary II, Anne, George I, George II, George III, George IV, William IV, Victoria, Edward VII, George V, Edward VIII, George VI, and Elizabeth II.
Do you know any other handy Brit culture/history mnemonic devices ?
Read More
Filed Under: