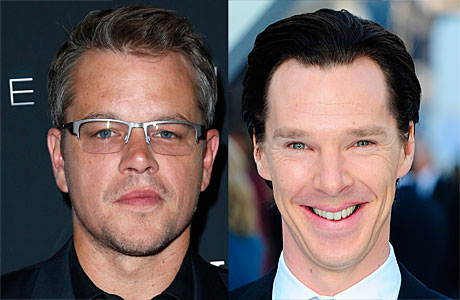 Normally, when a star praises another star in an interview, the correct response is for the second star to return the praise unstintingly. That's just showbiz etiquette.
But there's something in the following exchange between Benedict Cumberbatch and Matt Damon, an exchange fairly exclusively relayed by reporters for Vulture, that crosses a line from general manners into overexcitement on one side and mild terror on the other.
It began, harmlessly enough, in an interview Benedict gave around the Emmys, in which he talked about sharing a nominations list with Al Pacino, Toby Jones, Michael Douglas and (be still his beating heart), Matt Damon, who he described as "a huge hero of mine, I'm beyond words. I'm bowled over by it, I really am. I'm so, so thrilled."
This then lead to quite a long and effusive spurt of excitement about Matt, in which Benedict praises him for being grounded, intelligent, smart, composed and beloved – "you never hear a bad word said about him."
He continued: "My biggest wish is to hang out with him! … I can kind of quiz him. And then cut to a hot night where we're all getting drunk and dancing and having a good time! Maybe it'll have to be on another occasion, but wouldn't that be cool, though? I would like to go out with that group full stop, wouldn't you? That would be a fun dinner party. I think that would be great fun."
He then asks reporter Jennifer Vineyard if she has Matt's number, and says "Can you pass along a message, and tell him that Benedict is a big fan and would like to hang? That would be brilliant."
So far, this is just a giddy little moment in the middle of a normal run of promotional interviews.
But the story doesn't end there. Here's the moment when Benedict's gushing praise is first introduced to Matt, and his response is a perfectly appropriate form of bemused acceptance, like he's a little wary that this is a set-up. But at least he offers some unsolicited praise in return. Slightly less gushing than Benedict's, but perfectly fine nonetheless.
Then things get a little stalkery. In a subsequent interview, later on, Benedict's praise and offer of a drink are brought up once again, and this time, it's clear from his answers that Matt has begun to wonder what all the fuss is about. And he's far less keen to offer a return compliment, beyond the standard Hollywood yes, the one that means no.
Take a look at some of these back-and-forths, again with Jennifer Vineyard:
Q: Are you a fan of his as well? Are there things of his that you've loved?
"I just want to sit down and have a beer and talk shop with him. I'm just kind of looking forward to that. I think he'll be one of the guys who lasts, that's my take."
Trans: "I… er… the guy from Star Trek?"
Q: Did you ever see Benedict in Sherlock?
"Yeah. I haven't seen all of the Sherlocks, but I've seen some of the Sherlocks, probably half of the Sherlocks, on my iPad. Is that a bad thing to say? Because I've been traveling. I'm a little behind."
Trans: "I have seen none of the Sherlocks"
Q: He wants to have more than a beer with you — he wants to go dancing, to party, stay out all night, maybe at the Emmys, maybe another night.
A: "He may not know how old I am! [Laughs]"
Trans: "OK now you're freaking me out."
Get the message? No matter how much certain people would like to matchmake on your behalf, Benedict – and Vulture REALLY want to matchmake on your behalf – you either put in the charm offensive yourself, or back off.
Read More
Filed Under: