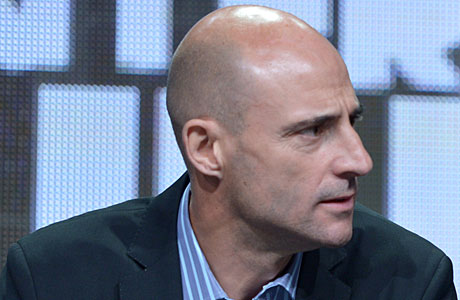 There's an intriguing rumor doing the rounds at the moment concerning Mark Strong – the British actor with the face of a hawk and the hairline of an egg – and the next Superman movie.
Digital Spy is reporting on a conversation they had with Mark in which they asked him directly about his potential involvement in the sequel to Man of Steel, and his reply was an enigmatic: "All I can say is… watch this space."
The next Superman movie, as announced at Comic-Con, will draw from Frank Miller's The Dark Knight Returns, and will pit Superman against his ally in crime-fighting, Batman. It's unclear as to whether Lex Luthor will be a part of this story, although there are hidden references to his company LexCorp in Man of Steel, and if he does, it's pretty clear from where we're sitting that Mark has to be, if not the sole entrant on Zack Snyder's Most Wanted list, certainly right up the top end.
And it's not just the physical resemblance to Superman's un-hirsute nemesis that makes him such a strong contender. Mark Strong has the eyes of a snake, and can to convey evil cunning better than almost anyone else. He won't be a comic or blustering Lex Luthor, like Gene Hackman in the Christopher Reeve Superman movies, he'll be a Lex Luthor that could potentially outfox a man from Krypton, and will be entirely vicious about it too.
That's why he's been the bad guy in so many action and fantasy movies, from Stardust to Kick Ass.
In fact the only mark against him is that he has already played a villain in a DC Universe movie. He was Sinestro in the deeply-uninvolving Green Lantern.
We'll need to keep up the British contingent in the film in any case, what with Christian Bale declining to take up Batman's cape once again.
The sequel to Man of Steel is planned for summer 2015, and will star Henry Cavill, Amy Adams, Laurence Fishburne and Diane Lane.
Read More
Filed Under: