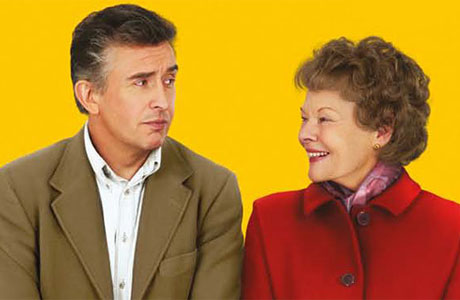 Here's a team-up it would've been hard to see coming. Steve Coogan, fresh from his return to duty as Alan Partridge, in the Alan Partridge movie Alan Partridge: Alpha Papa, is playing a journalist alongside Dame Judi Dench in the new Stephen Frears film Philomena.
It's the true story of an Irish woman, Philomena Lee, who became pregnant as a teenager in 1952, and was sent, in disgrace, to a convent in Limerick. Her son was taken away at the age of three and sent to America, to be adopted, and she was strongly encouraged to sign a contract that she would not try and find him.
Spoiler: she breaks this contract.
Judi plays Philomena, with Steve taking the part of the embittered BBC political journalist Martin Sixsmith, who started off barely wanting to cover the story – he later wrote a book about it called The Lost Child of Philomena Lee  – and ended up with a far more active role than he had originally planned.
The film is released in the UK on November 1, and will hopefully go on to an American release, especially given the success of Stephen's previous movies – The Queen, Dangerous Liaisons, The Crying Game.
Here's the poster in full:
Read More
Filed Under: