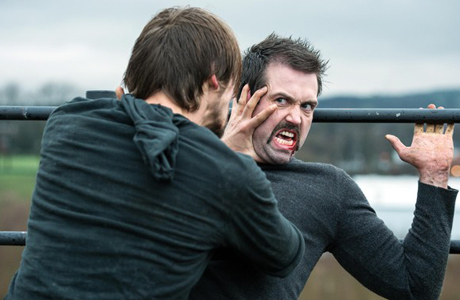 Channel 4's soap opera Hollyoaks has received a slap on the wrist by the TV watchdog Ofcom over a train death scene which aired before 9pm, reports BBC News.
While the scene was considered graphic, based on violence, its airing before 9pm is the key element. The episode aired in March, 2013 and has been under examination with Ofcom recently ruling the "violent and shocking" scene as unsuitable to be shown before the watershed, the dividing line between youth and adult content.
Ofcom released a statement saying the scene had the "potential to distress younger viewers as well as raise concerns about the level of violence amongst parents watching with their children regardless of the editorial context presented or the signposting provided."
This storyline had been building up for an entire season between former undercover policeman Simon Walker (Neil Newbon) and former drug dealer Brendan Brady (Emmett Scanlan). While Channel 4 claims they followed broadcasting standards in managing the violence level, they sort of undo this statement by saying, "there was an expectation from viewers that there would be a dramatic end to such a complex tense relationship."
Channel 4 claims to have counted every punch and monitored the sound levels with broadcasting standards in mind. Channel 4 went on to say that the scene was "appropriately scheduled" as it appeared one minute before 9pm. Hmm, it's still before 9pm.
This reminds us of the saying, "Don't ask for permission, ask for forgiveness." Do you think Channel 4 knew they were walking a fine line?
Well, the episode has aired and that can't be undone. Ofcom has made its assessment but the repercussions are unclear at this time.
Are you gagging to the scene? Warning, it is in fact pretty graphic and made us flinch a few times. We watched it and kept saying, "Ow, ow. Oooh. No. Noooo. Ohhh," not even realizing those cringing sounds were out loud. We already know someone dies … is it the former police officer or the former dealer?
This clip is courtesy of a Hollyoaks fan filming their telly for us to share with you. In other words, it isn't the best quality. But, it gets the job done:
What happens after 9pm in the UK? 
Read More
Filed Under: