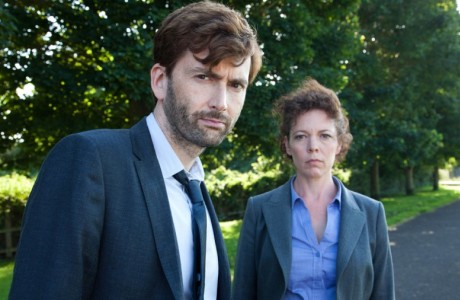 With BBC AMERICA's premiere of the U.K. original airing in just under a week (Wednesday, August 7 at 10/9c), Fox has announced that they are planning to adapt Broadchurch for their 2014-15 television season. The British creator of the original series, Chris Chibnall, "will write the premiere episode and executive-produce the series with Shine America's Carolyn Bernstein and Jane Featherstone," reports Entertainment Weekly.
Here's the series description for the original series:
"Leading the investigation are two detectives – the strong yet compassionate local Detective Sergeant, Ellie Miller (Olivia Colman), and the by-the-book Detective Inspector Alec Hardy (David Tennant), Ellie's newly appointed boss. By circumstance they are partnered to solve a murder, keeping the newspapers from derailing the investigation and trying to prevent the crime from impacting tourism at the beach where a boy was murdered."
Chris Chibnall, best known for his work on Doctor Who and Torchwood, has been successful with the British version of Broadchurch, which amassed over 10 million viewers in the U.K. for the season finale and was named "the most tweeted-about drama" in U.K. history. With the series receiving passionate acclaim from U.S. critics, the original Broadchurch already shows signs of doing well in America. (And you can watch the first episode of the original in its entirety right here on BBCAMERICA.com.)
Of course, British television series have been adapted for American networks in the past. Some, like The Office, have been successful, while others, like Skins, have not necessarily been as popular as their original U.K. counterparts. It seems only time will tell.
The original Broadchurch premieres August 7 at 10/9c on BBC AMERICA.
Read More
Filed Under: