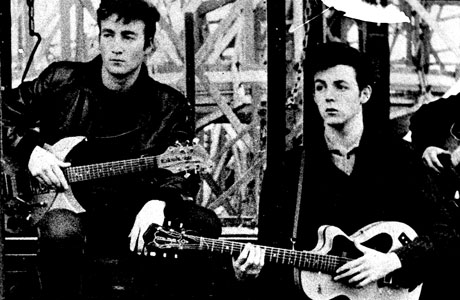 Let's take a quick poll:
Who wants to buy a pair of leather trousers? OK, now of the people who just said yes, who wants to buy a pair of leather trousers that are over 50 years old, and have been worn by two previous owners? And what if you find out one of those owners used to wear his leather trousers to play sweaty rock 'n' roll concerts every night? Does anyone out there still have a hand up?
This is the situation in which a Bridlington man finds himself, having gathered his belongings together to move house and come across his old stage leathers. Mike Hoggard does have an ace up his… well it's not exactly a sleeve… in that he claims that the whiffy old leathers used to belong to Paul McCartney, and all of that sweat occurred because he was gigging with the Beatles.
It's too late to put your hands back up now.
Mike says that he was given the trousers by the band's manager Brian Epstein, after a gig with his jazz band at the Cavern Club in Liverpool, probably late in 1961. He'd found them in the band's dressing room after the Beatles set, with the name "Paul" written just below the waistband, and Brian said to keep them.
He told BBC News (who also have pictures):
"The trousers were in a bag hanging up. Epstein said to take them because he wanted to get them out of the leather and into these suits. So I took them and I wore them. At the time they [The Beatles] weren't famous at all, so there was no sort of thought about 'I've got something that's massively invaluable' or anything like that, just I fancied a pair of leather trousers."
Now, it would be very easy to find an old handkerchief, write the name Ringo on it and claim it as a Beatle artifact, but Mike's son in law Paul Bennett-Todd, initially a sceptic, has put the pants through some rigorous tests to determine their provenance, not the least of which is examining photos of Paul in 1961, to see if there are common creases and marks that would identify the right pair:
"We can see creases that are indicative of the way that a person might wear those trousers – it's like a fingerprint, almost. They're exactly the right inside leg measurement and they're exactly the right waist measurement.
"They [the Beatles] went to a small independent tailor in St Paul's district of Hamburg and commissioned the trousers to be made. That's what makes these trousers so very individual."
Now both men are hoping to sell the trousers to a museum, possibly motivated by the £110,450 a leather jacket of George Harrison's fetched at auction last December.
Sir Paul, who could conceivably just ask for his pants back, has not commented on whether he wants them. He didn't even put his hand up just now.
Read More
Filed Under: