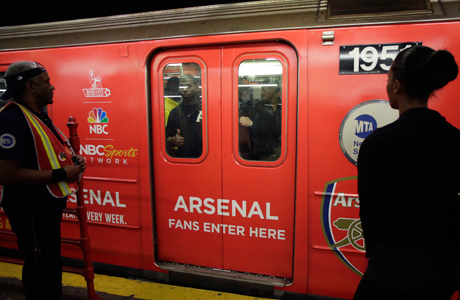 We all know that the Brits give the Americans a hard time when it comes to football. Whether we are lamenting their use of soccer (a word actually coined in England) or their so-called misuse of football (again, coined in England and historically associated with rugby football), it is often said that Americans don't care about the beautiful game.
From a British point-of-view, it is easy to imagine, then, that moving to America would put an immediate end to your football experience. Not true! With the start of the 2013/14 Premier League season just a few days away, football here has perhaps never been as popular. Here are five ways to catch Premier League football in the United States.
On television and via live streaming
Believe it or not, the expansion of football in the United States has been such that you can actually watch live Premiership matches on your own television. As a matter of fact, from the start of the 2013/14 season, NBC is scheduled to televise every minute of every match from the top flight on its various platforms, including web and mobile streams of all 380 matches through NBC Sports Live Extra.
A look at the NBC Sports Group's LIVE Premier League Exposures #BPLonNBC pic.twitter.com/sBchg65gbV

— NBC Sports PR (@NBCSportsPR) April 16, 2013
NBC Sports spent $250 million to acquire rights to air Premier League play for the next three seasons and has supported it with an expensive marketing campaign starring Saturday Night Live alum Jason Sudeikis.
Watching NBC Sports' coverage does, of course, require the purchase and installation of cable, but whether you're looking for Cardiff vs. Hull or Manchester United vs. Chelsea, this is the only way to watch it all. Unless, of course, you are happy spending three-to-four days out of the week doing number two on this list.
Down at the pub
That's right: America has pubs. And what could be more British than to watch the match over a pint of lager (note: neither pint nor lager are common words in the U.S.) and a plate of fish 'n' chips? Though most establishments aren't as authentic as the typical moniker suggests, pubs with English, Irish or Scottish themes almost always show live Premier League action, not to mention FA Cup and Champions League encounters. One of the major benefits of watching the match down at the pub is hearing an American yell "come on, ref! He was never offsides." (Note: Americans like to pluralize the word offside).
On the radio
Failing options 1 and 2, you can always do things the old fashioned way: listen to it on the radio. Football fans in America (and around the world) can listen to live coverage of the latest matches by tuning in to global independent broadcasters like TalkSport. Here you can get live audio commentary straight to your computer, television and, crucially, mobile phone. The latter is a particularly useful football source during long weekend road trips, which, in a land as vast as the United States, is inevitable at some point.
http://www.youtube.com/watch?v=iwfF2I5VoSw
Online text commentary
Sometimes, no matter your country of residence, it's just an unfortunate fact of life that some of the key games of the season — the top of the table clashes, the relegation dogfights, the passionate local derbies — happen to coincide with your workday. That's why online text commentary was invented. And, because the internet is accessible in almost every nation on the planet, you can quietly read about your team's exploits from your office in Pasadena!
Online video highlights
Of course, there are many things that text commentary does not offer. Chief among them is visuals. Thankfully, even if you were tied all day to your office in Pasadena, you can still catch all of the day's goals when you get home. While Match of the Day is not available to Americans, online highlights can be found at licensed networks, such ESPN and FOX Soccer.
What's your tip to catching Premiership matches in America? Tell us below. And join us Friday at 1 pm ET for a live Premier League preview on Twitter using #MindTheChat. Follow @MindtheGap_BBCA for more.
Read More
Filed Under: