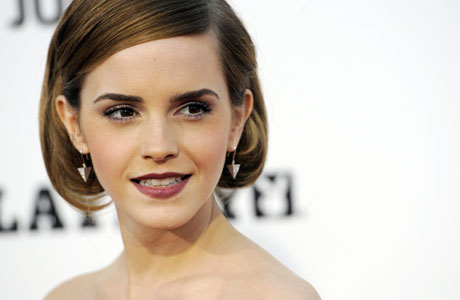 It's very common for child actors to struggle with transitioning into more mature, adult roles. Emma Watson, 23, seems to have done so seamlessly … but it may not have been as easy as it appears, reports Yahoo UK.
Watson, of Harry Potter fame, took a brief hiatus from acting to attend college, studying in the U.S. at Brown University and attending Worcester College, Oxford as a visiting student. To the outside world it seemed that she just wanted to live the life of a typical college student, having a bit of fun and enjoying normalcy.
She talks about feeling overwhelmed during that time, saying to Entertainment Weekly, "For a while I kind of bought into the hype of, 'Will they ever be able to play anything else?'"
It is one thing to have some self doubt but it is another thing when one of your advisers agrees with you. She went on to say, "It gave me a sense of paralysis and stage fright for a while. And then a professor told me that they didn't I think I should act, either." Again, you hear this from very successful actors, that their drama teacher told them to give up, but it's usually before their career begins not as it's happening.
It seems to be a textbook case of reverse psychology, whether it was intended or not. Watson didn't take kindly to the advice and started to get "pissed off" and says, "I suddenly wanted to prove them wrong. It gave me fuel, in a way," reports EW.
After appearing in The Perks of Being a Wallflower in 2012, she felt a shift and stopped over thinking decisions.
Watson stars as herself in the apocalyptic comedy This is the End, currently in theaters, set in James Franco's house with him and all of his buddies.
Have you every gotten advice you didn't like so much … and then did the opposite?
Read More
Filed Under: