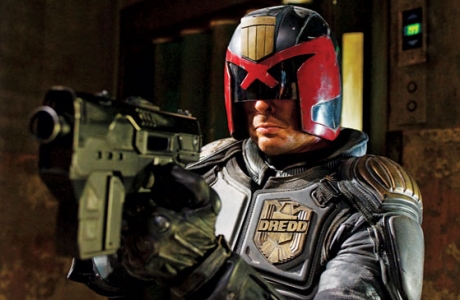 British comic book characters have had rather less success making it to the big screen than their American counterparts, despite a proud publishing tradition that goes back almost as long. One notable exception, however, is 2000AD magazine's "lawman of the future": the permanently-helmeted, no-tolerance one man justice machine Judge Dredd. Created in 1977 by writer John Wagner and artist Carlos Ezquerra, Dredd's action-packed yet highly satirical stories have made him one of U.K. comics' most iconic and enduring figures.
After a big-budget, Sylvester Stallone-led adaptation in 1995 that's best not discussed in polite society, Dredd made a return to the screen last year in an altogether grittier and more faithful take. Written by Alex Garland and directed by Pete Travis, Dredd 3D starred Karl Urban and met with acclaim both from devoted fans of the comic, and from movie critics almost across the board. This positive reaction, however, didn't translate into box office success: a reputed $36.5m worldwide takings ($13.4m of those in North America) fell short of the film's budget of $45m, and put the dampeners on any plans the production team might have had for a larger-scale sequel.
A strange thing happened, however, when Dredd made it to a home release. While DVD and Blu-ray figures were of course still significantly lower than the cinematic box office, it became the number-one selling film in both disc and digital format upon its week of release both in the U.K. and, perhaps more significantly, in North America. It's showed sustained legs, as well, as its U.K. sales actually spiked as recently as June of this year.
The slow-burning growth of interest has led to renewed speculation that a sequel might yet be on the cards after all – and it's a cause that the publishers of the 2000AD comic in which Dredd still appears, Rebellion, have thrown their weight behind. An online Facebook campaign called simply "Make a Dredd Sequel" started out as an unofficial fan endeavour, but was quickly embraced by 2000AD, who now host the petition on their own website.
"The fan-run campaign put us in a bit of a difficult position," says Rebellion PR coordinator Michael Molcher. "Do we step in and try to help out or what? So we've decided to officially endorse it as 2000AD. We can't guarantee it's going to succeed, but we want to say to the fans that your support is appreciated. There's a massive following for the film, now, who have never read the comic. Perhaps there's an opportunity for us to help spread the word about the movie and the comic, and down the line it might make a difference to getting a sequel."
Karl Urban, meanwhile, recently spoke to IGN about his own interest in making another film. "The fans are screaming out for a Dredd sequel, and I would like nothing more than to be a part of it. Alex Garland wants to do it, I want to do it. Really, I guess, it's up to film financiers if they can crunch the numbers to make it work."
"There's many places that I'd like to see that character go. You know, I personally would like to see almost an origin story. In the world of Dredd, humanity has given up. There's a dystopian vision of the future. I'd really like to see how it got that way, how the Judges came to be. To me that's interesting. There's great story in the comic called Origins, and that would be the great basis for a movie."
Read More
Filed Under: