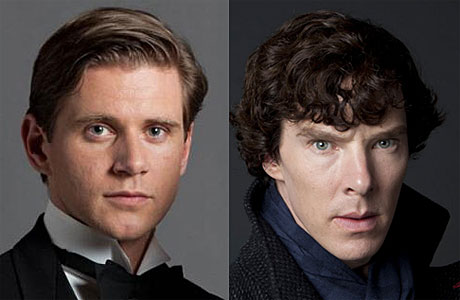 I wonder what it is about Benedict Cumberbatch that leads directors and writers and producers to conclude that he'd be good at playing people who were famously good at cracking codes? That air of authority, perhaps? The spark in the eyes? The bubbling turmoil under those brows? Whatever it is, he's got it. Stephen Hawking, Sherlock Holmes, Julian Assange, and now World War II maths genius Alan Turing, in The Imitation Game, in which he will be joined by Downton Abbey star Alan Leech.
Turing's life was certainly as eventful, cursed and blessed as any of Benedict's other grab-bag of geniuses. A mathematical prodigy, his work lead to the breaking of the German Enigma Code, using a specially-designed mechanical computer called, naturally, the Enigma Machine, which dramatically changed the outcome of naval battles during the war, and helped lead the Allies to victory.
In the early 1950s, he was arrested, having broken the then-current laws against homosexuality, and was treated with female hormones, as a putative 'cure,' rather than serve a prison sentence. He died of cyanide poisoning in 1954, a dose that was later ruled to have been self-administered.
The Imitation Game tells that story, with Alan playing a Scottish spy, working for Soviet Russia. Keira Knightley and Matthew Goode also star. It's slated for release in 2014.
And in the meantime, should anyone be thinking of making a warts 'n' all confessional movie of the Times Crossword, I think we may have your leading man.
Read More
Filed Under: