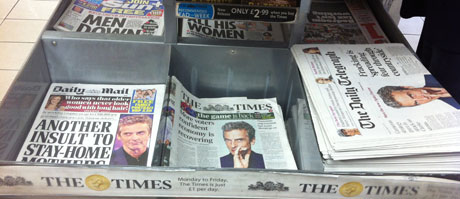 Well, it's been something of a week, has it not? Ever since the announcement of the TV special announcing the Twelfth Doctor, the already-feverish speculation as to the identity of the actor or actress in question became a hurricane of possibilities.
There was a theory that the grand gesture of a TV special revealing the Twelfth was in some way an admission that actor playing the role is someone known, and the Telegraph even had a print-your-own-sweepstake!
And, as we pointed out in our history of new Doctors (parts one and two), this speculation and revelation is on a scale that Doctor Who has not witnessed before.
The bookies were bang on the money, of course. The Twelfth Doctor is…
Hats off to Peter Capaldi, veteran Doctor Who fan of many years, and eternal thespian astonishment.
Then the responses began, from fans and stars alike. Oh the responses! Even the New Statesman had something to say.
And we captured some fan reactions ourselves:
• Here's the letter Peter wrote to the Radio Times in 1974, as mentioned on the TV show. And some of his Doctor Who fanzine writing work too.
• And did you know he was in a band with fellow celebrity Whovian Craig Ferguson back in the '80s?
• And have a look at neat summary of his pre-Whovian career.
• And did you know Capaldi is an Oscar winner? Watch the movie for which he won.
• And here's what it was like to actually be there, among the fans and cosplayers and people tutting at Rufus Hound.
• And, because it's fun to think of what might have been, here are five reasons why the Radio Times thought Ben Daniels was the Twelfth Doctor.
• What will Matt take with him when he goes?
The last word on this topic should go to Steven Moffat, who told us why he chose Peter, and who else he had auditioned:
Shall we take a look at what else was going on in space and time, before Sunday night?
• A thought-provoking quote from Steven Moffat about the Doctor as a character, even after 50 years: "We've sort of got to the point, especially if you're a fan, you sort of think you've made a list and you've got everything. And you look at it and think okay, you think you know everything about the Doctor? What's his name? Who is he married to? Who were his children? Did he have any other grandchildren? What was his job? You know nothing about the Doctor…"
• David Tennant gave SFX an interview about his work in the 50th Anniversary, in which he said: "When there is more than one of you, as is the case this time, it becomes a slightly different character. The Doctor tends to lead every scene he is in and when you are sharing that out it becomes slightly different."
• Incidentally, you can see David in the US premiere of the acclaimed eight-part drama Broadchurch at 10pm/9c on August 7 on BBCAMERICA. And that follows his Doctorish forebear (and actual father-in-law), Peter Davison in a new season of Law & Order, which starts at 9pm/8c.
• Jenna Coleman (Clara) had her first Comic-Con this past year. Matt Smith and a few fans provided her with this survival guide.
• Plus, for all of you non-Brits out there, Arthur Darvill (Rory) shows us the proper way to dunk a biscuit in this installment of "3 Questions, 2 Biscuits + 1 Cup of Tea."
• Here's a beautiful fan-made trailer for the last great time war:
• Doctor Who's top five gadgets.
• Way back in 1963, when the Doctor was just a scrappy kid with a dream and a blue box, there was a concerted effort to get the show on the cover of the Radio Times for the first episode. It did not succeed, as the Radio Times freely admits.
• They went on to elaborate on their long and fruitful association with the show, however.
• Oh no! The Daleks are attacking the Second Doctor (although, he looks a little different from usual). Someone fetch a '60s popsicle! Only sixpence!
• Seven things that make a truly great Doctor Who story.
• Fancy boarding the TARDIS? Get yourself to Cardiff.
• This giant Dalek turned up in a field in Cheshire (cue a LOT of "extrawminate" gags):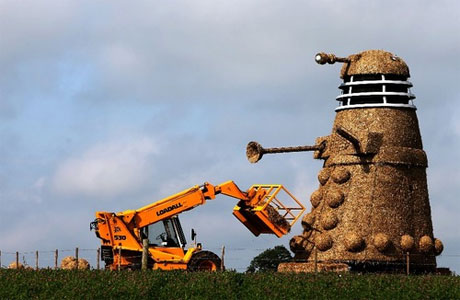 • Peter Davison and Michelle Ryan are to team up for an episode of Death In Paradise.
• David Bradley explains how he researched the role of William Hartnell.
• A fan-made tribute trailer to the rotteriest rotter of them all, the Master:
http://www.youtube.com/watch?v=QSP-YGokKts
• "Victory of the Daleks" fans may be interested to know that Winston Churchill's wartime bunker is for sale.
• Yes, it's a TARDIS pram:
• Let's go out with a song. THE song, in fact, performed by 600 people at Comic-Con:
TTFN!
Read More
Filed Under: